Medicare Supplement plans are a popular choice for Medicare members in New York. About half a million New Yorkers have Medicare Supplement, or Medigap, policies to help pay costs that Medicare doesn't fully cover. 1 If you're considering a Medigap policy, here's what you need to know.
What You Need to Know

Medicare Supplement plans help you with the out-of-pocket costs left over from Original Medicare.

In New York, you can't be denied Medigap coverage or charged a higher premium because of your health or preexisting conditions.

Unlike in other states, you can sign up for a Medigap policy year-round.
About Medicare Supplement
What you currently have is Medicare Part A and B, or Original Medicare. Part A covers inpatient hospital services, and Part B covers outpatient medical services and supplies. Original Medicare doesn't cover 100% of your costs, and it doesn't set a limit on out-of-pocket costs. That's where Medicare Supplement can help.
What Medicare Supplement Covers
Medicare Supplement plans cover most or all of the costs not covered under Medicare.
Different plans offer different levels of coverage. Plan F covers 100% of the gaps in Medicare. Plan G covers everything except for the $233 Medicare Part B deductible. Plan N requires some copays, but it fully covers services like hospitalization, surgery and diagnostic tests.
When Can You Enroll in Medigap?
You have a couple of options for enrolling in a Medigap policy.
Medigap Open Enrollment Period
The Medigap Open Enrollment Period begins once you're age 65 and eligible for Medicare Part B. You must be enrolled in Part A and B to get a Medigap policy.
If you're under 65 and qualify for Medicare due to a disability or end-stage renal disease, insurers aren't required to sell you a Medigap policy. 2 Check with your broker or Medigap insurer for alternate options, though some are only for those ages 50-64.
Outside the Medigap Open Enrollment Period
In New York, you can enroll in Medicare Supplement plans any time of year. Insurers can't reject you or charge you a higher rate because of your health or preexisting conditions, even outside your Open Enrollment Period.3 Only three other states offer this level of protection.4
You might still face a waiting period over your preexisting condition, but in New York, that period is reduced by the number of days you had "creditable" coverage as long as you didn't have a break in coverage for more than 63 days. Creditable coverage can be a group health plan, private insurance, Medicare or Medicaid, among other options.5
Guaranteed Issue
Certain qualifying events give you a guaranteed issue right to enroll in a Medigap policy in New York with no waiting period for preexisting conditions. Qualifying events include:
You've chosen to switch from Medicare Advantage back to a Medigap policy
You left your employer health plan voluntarily or involuntarily
Your current Medicare Advantage plan is no longer available in your area
What Are the Most Popular Medicare Supplement Plans?
There are 10 Medicare Supplement plans available: A, B, C, D, F, G, K, L, M, N. Each coded-letter plan offers a different level of benefits. Plans C and F are no longer available to those newly eligible for Medicare in 2020.6 The three most popular plans, based on 2019 national enrollment, are Plans F, G and N: 7
| | | |
| --- | --- | --- |
| | Total Enrollees | Enrollment %2018-2019 |
| Plan F | 6,804,076 | -3% |
| Plan G | 3,067,424 | + 33% |
| Plan N | 1,359,949 | + 1% |
Snippet Render Is Present – D3 cannot be loaded in editor mode. Go to preview or publish mode.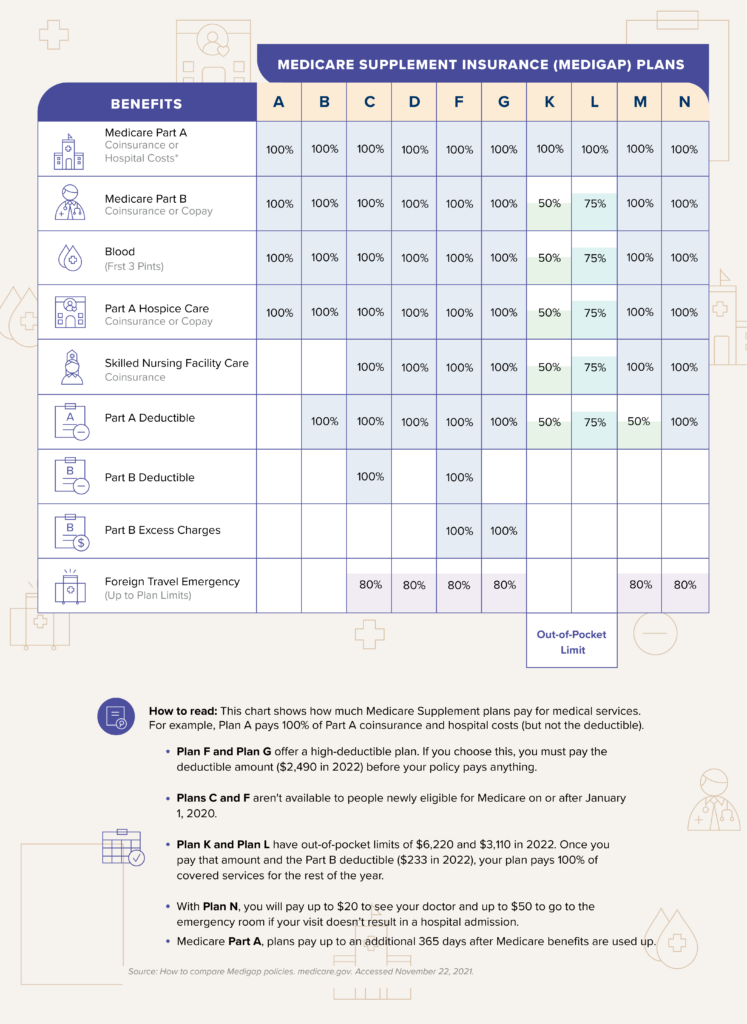 How Do You Choose a Medicare Supplement Plan?
There are 12 insurance carriers that offer Medigap policies in New York. These companies are:
The individual plans offer the same coverage no matter the insurer, but different insurers will charge different amounts for that plan.
Medicare Supplement Plan F and Plan G have higher monthly costs, but they also offer a greater amount of coverage.
Plan N requires more cost-sharing for certain doctor and hospital visits, but it costs less per month than Plan F or G.
How Much Do Medigap Policies Cost in New York?
In 2021, these are the monthly Medigap premiums in New York for the most popular plans: 8
| | |
| --- | --- |
| Plan F | $305 – $514 |
| Plan G | $268 – $476 |
| Plan N | $190 – $282 |
The rates vary depending on where you live.9
What If You Want to Change Your Medigap Policy?
New York's continuous Open Enrollment Period for Medicare Supplement plans means you can switch plans without much trouble. If you want to switch from Medicare Supplement to Medicare Advantage (see below), you'll need to disenroll from your Medigap policy first.
What Are the Alternatives to Medigap?
An increasing number of New Yorkers are choosing Medicare Advantage, or Medicare Part C. These plans work like HMOs or PPOs. They frequently include prescription drug, vision and dental coverage, but you're required to stay in-network for providers or services.
The availability varies by region. In New York City, there are 47 Medicare Advantage plans from 14 insurers. Upstate in Syracuse, there are 46 Medicare Advantage plans available from eight insurers. 10
What Are Medicare Resources in New York?
HIICAP – Offers counseling on Medicare, Medicare Advantage, Medigap and other issues. 800-701-0501
New York Department of Financial Services – Offers information on signing up for health insurance and Medicare. dfs.ny.gov
NY EPIC Program – Helps low-income seniors with prescription drug coverage. 800-332-3742
Medicaid – Provides health coverage for low-income families, those with disabilities or pregnant women. 800–541–2831
Next Steps
Medicare Supplement can help you manage the healthcare costs not covered by Medicare, especially if you have a lot of medical needs. If you're interested in signing up, decide which Medigap policy best fits your needs and budget. Then call the insurers that provide that plan and compare their costs to find the best option for you.