One in three Medicare beneficiaries also buys a Medicare Supplement plan, commonly known as a Medigap policy, because it fills in many of the coverage gaps left by Medicare Parts A and B.1 These plans can help tremendously with copayments and hospital expenses. They also pay for at least some blood transfusions.
Why Change Medicare Supplement Plans?
You may find over time that you'd like to switch from one Medigap company or plan to another. According to the federal government's Medicare site,2 this generally happens for one of the following reasons:
You're paying for benefits you don't need.
You need more benefits.
You want to change your insurance company.
You want a policy that costs less.
How Can You Switch Medigap Policies?
Changing Medigap policies is more complicated than it was to switch insurance plans in the days before you entered the Medicare world. Except in a handful of states, there aren't annual open enrollment periods for making the switch, and the restrictions are many.
Many people are confused by this because there is a period in fall each year when you can change aspects of your coverage, such as Medicare Part D drug plans. But things work differently with Medigap policies. Here's how to go about it.
When Can You Switch Your Medigap Policy?
The first time during which you can switch your Medigap policy without worrying about being rejected for coverage is during the Medigap Open Enrollment Period, a six-month period when you are 65 or older and have just enrolled in Medicare Part B. During this time, you can switch to another plan The company cannot deny the application or exclude any preexisting conditions or impose waiting periods, elimination or probationary periods into your new policy.
What If You Missed the Medigap Open Enrollment Period?
What if you want to change plans after your Medigap Open Enrollment Period? You might have been enrolled in health insurance through your work at that time, for example. Under certain circumstances, you have a "guaranteed issue right" that enables you to buy a Medigap policy at the best available rate, no matter what your current health status is.
What Is a "Guaranteed Issue Right?"
Here are some of the circumstances that might entitle you to guaranteed issue rights:3
You have coverage through a group health plan that paid secondary to Medicare but ends for no reasons that are your fault.
You are quitting a Medicare Advantage plan within 12 months of enrolling in it, assuming it was the plan you first joined after becoming eligible for Medicare at age 65. Medicare Advantage plans are inclusive plans sponsored by private insurance companies that provide all Part A and Part B benefits, and usually include prescription drug coverage and other benefits.
The insurance company that issued your previous plans stops offering coverage or commits fraud.
In other situations, if you no longer have a guaranteed issue right, you can apply for the Medigap policy of your choice, but with restrictions you had not faced before. At this point, insurance companies can require medical screenings and raise your rates based on your health situation rather than offering you the best available rate, or they can refuse to sell you a policy altogether.
Be especially aware that in January 2020, insurers can no longer offer to newly eligible Medicare beneficiaries policies that include coverage for the Part B deductible. Those plans? Plan C and Plan F. Those who stay with their previous plans can keep that benefit.
What Is a "Free-Look Period?"
You also can get a tryout month with your new policy if you like, called the "free-look period." Be aware, it's not free. People must pay for both policies that month until they decide at the end of 30 days whether to leave the old policy and stay with the new one, according to the government's Medicare website on changing Medigap plans.
Several states — California, Connecticut, Maine, Massachusetts, Missouri, New York, and Oregon — have more generous rules on switching Medigap plans, according to Boston College's Center for Retirement Research.4 California, for example, allows Medigap policy owners to shop for new coverage each year without fear of being rejected for medical reasons. This happens during the 30 days immediately after their birthday without a medical screening or a new waiting period. The new policy must have the same or fewer benefits than the old policy.
An Alphabet of Medigap Policies
Across the nation, there is a confusing array of 10 Medigap policies offering different levels of coverage. To compare them, you can read this article on MedicareGuide.com or look at the chart below.
Keep in mind that Plan C and Plan F are no longer available to newly eligible beneficiaries buying Medigap policies after January 1, 2020. Plan G is the closest to Plan F, which has offered the most comprehensive coverage. Plan G, though, does not cover the Part B deductible.
Some of the plans – C, D, F, G, M, and N – cover skilled nursing facilities; two don't at all and two others cover a percentage. Only Plans F and G cover Part B excess charges. Plans K and L come with out-of-pocket limits for the beneficiary before they pick up full expenses.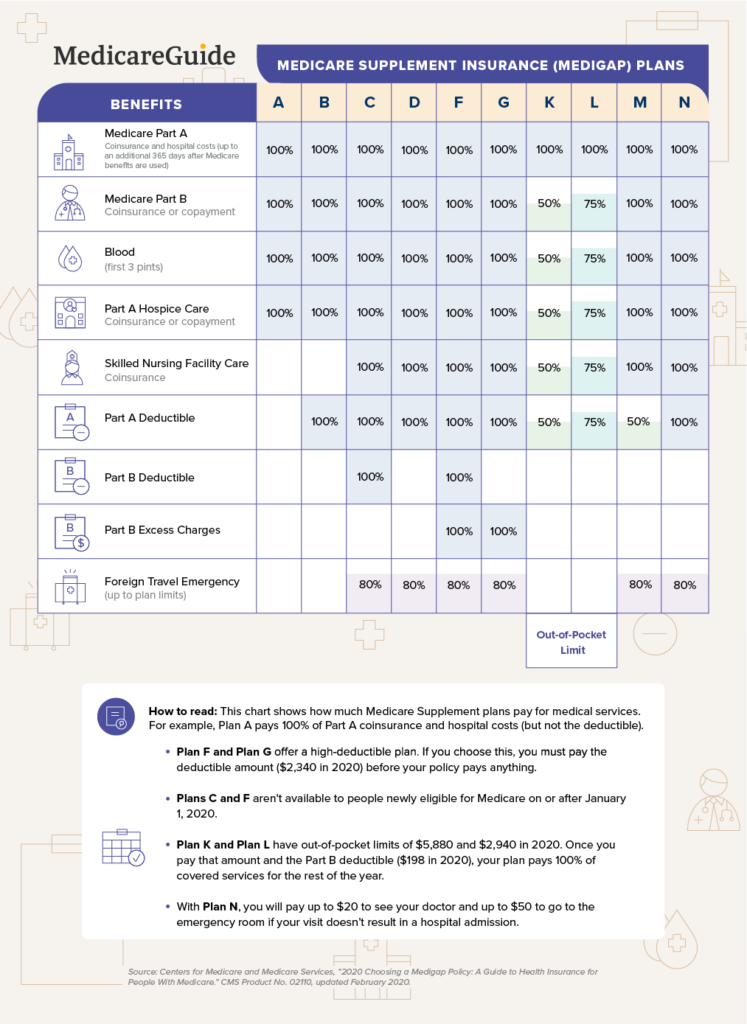 Next Steps
As with many kinds of insurance, the world of Medicare Supplement plans can feel overwhelming, with a whole new set of rules and restrictions. If you have had coverage and are looking for a change, switching your policy is even more complicated, depending on which state you live in and what level of coverage you seek.
But it can be done. Read over our chart on Medigap benefits, look at any rules in your state that might affect you for better or worse, and check your situation against the restrictions outlined above. Ask for expert, unbiased help if you're still uncertain. The decision you make could affect your healthcare choices for a long time to come.