A look at Medigap and its coverage, how it works, and why Medicare seniors should supplement Original Medicare.
You're going on Medicare – congratulations! You'll join nearly 62 million Americans on what many of them claim is the best health insurance they've ever had.1
So, you call Social Security and sign up for Medicare Parts A and B. But then you discover that A and B don't pay all your hospital and doctor bills. They provide you only partial coverage and leave some big gaps in those bills for you to pay. Medigap policies are great at protecting you from those coverage "gaps."
This is where Medigap comes into play. But what is Medigap and why should you get it?
What You Need to Know

Medigap helps pay out-of-pocket costs, doesn't require referrals and gives you greater doctor choice.

Medigap works automatically with Medicare and fills in the coverage gaps without input from you.

You can choose a separate prescription drug policy that fits your healthcare needs.
What Is Medigap?
Simply put, Medicare leaves big gaps in its coverage for your hospital and doctor bills. Those gaps in coverage could add up to a huge amount of money out of your pocket. Medigap is a specific type of health insurance policy that pays some (or all) of the gaps in Medicare Parts A & B. By spending a little each month on a Medigap policy, you secure yourself from those coverage gaps. Make sense so far?
Why Is It Called a Medicare Supplement?
Medigap policies are also called "Medicare Supplements", even though they don't supplement or add anything to Medicare. They just pay bills for you, by covering out-of-pocket costs you'd otherwise have to pay on your own.
What Are the Benefits of Buying a Medigap Policy?
Have you ever seen a hospital bill in detail? Perhaps you had some routine surgery and spent only two or three days in the hospital for it. Chances are your hospital bill was much larger than what you were expecting. On top of that, you likely received a separate set of doctors' bills listing things like the surgeon's bill and anesthesiologist's fee.
Since Medicare Parts A and B don't fully cover all these hospital and doctor bills, millions of people join Medigap policies to help pay the remainder.
Medigap policies give several major benefits to people with Medicare. When deciding whether a Medicare Supplement plan is right for you, here are some things to know.
Medigap Helps Pay Out-of-Pocket Costs
Unlike most other types of health coverage, Original Medicare does not have a limit on how high your out-of-pocket costs can get. But Medigap policies pay some or all of those out-of-pocket costs, giving you peace of mind.
Medigap Can Help If You Have a Chronic Illness
Medigap is a good choice if you have chronic illnesses that require frequent or expensive treatments;
That means that if you have a medical condition that will likely require hospital stays every year, or frequent, expensive medical treatments, a Medigap policy will save you money as opposed to buying a Medicare Advantage plan. The copays, deductible, and coinsurance under an Advantage plan could be far greater than your monthly premium for a Medigap policy.
Medigap Doesn't Require Referrals
With Medigap, you don't need referrals to see specialists. That's unless you have a Medicare SELECT policy, available in some states, which works like a managed care plan and limits you to in-network providers;2
Greater Doctor Choice with Medigap
Medigap gives you greater choice of doctors compared to Medicare Advantage. Unless you have a Medicare SELECT plan, your Medigap policy won't have a specific network of providers like you'd have with a managed care plan (Medicare Advantage plans are managed care plans). Instead, Medigap coverage is "coast-to-coast." Any doctor, hospital and medical provider who accepts Medicare assignment (that means they bill Medicare directly) has to take your Medigap insurance, regardless of which company you bought it from. And if you see a non-participating provider, some Medigap policywill pay the excess charges that you'd otherwise have to pay (note that if you see a doctor who has opted out of Medicare altogether, your Medigap policy will not cover any of their charges, and neither will Medicare);
Medigap Works with Medicare without You
Medigap works automatically and usually without any input from you, working together with your Medicare plan and filling in the coverage gaps after Medicare has paid for your pre-approved treatments. This ease-of-use is a big appeal of owning a Medigap policy.
Medigap Allows for Separate Drug Coverage
It allows you to have a separate policy for your prescriptions, which you have the freedom to change yearly (to always have the lowest possible prescription prices) without affecting your doctor and hospital insurance. More specifically, if you want prescription drug insurance to go with your Medigap policy, as most people do, you would purchase a separate policy for that called Medicare Part D (think: D is for Drugs).
Types of Medicare Supplement Plans: from Plans A to N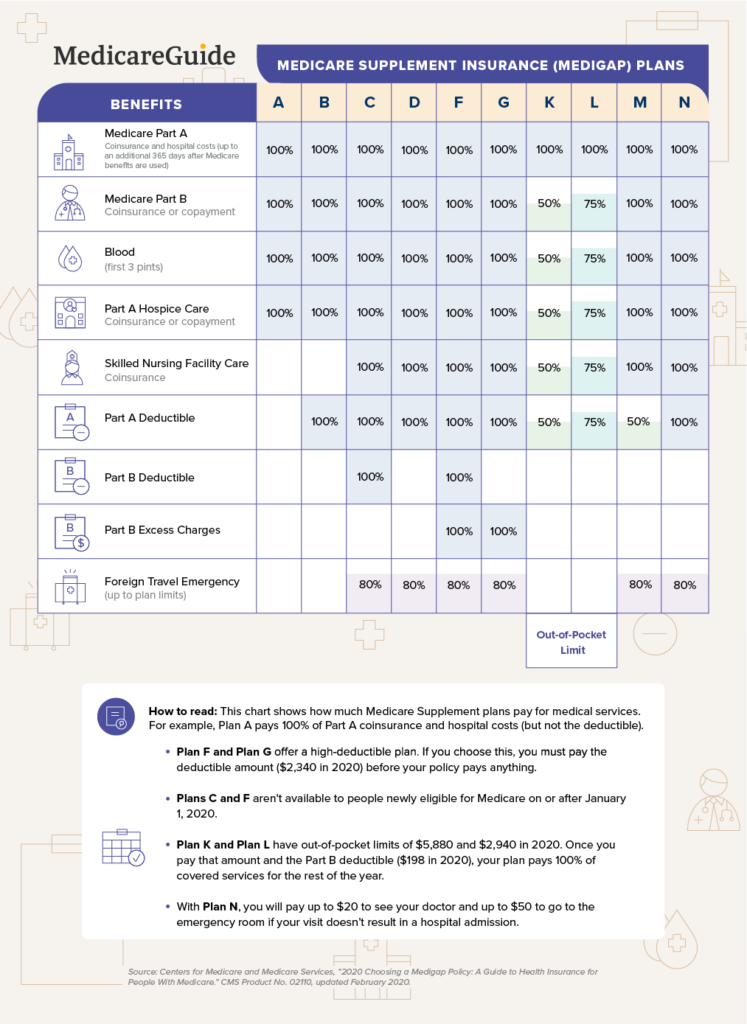 You'll notice that all Medigap policies have alphabet names, from the letters A through N. The most popular Medigap policies are Plans F, G and N. The only difference among the plans is how much of the coverage gaps they will pay for you. For instance, Plan F will pay 100% of all gaps in hospital and doctor bills for you; therefore, you would have no deductibles or coinsurance at all, just your monthly payment for the insurance. That's perfect for people who don't like dealing with out-of-pocket costs when they need medical care.
Plan G is almost identical to Plan F, but is a little more economical because it doesn't pay your annual Part B deductible. Plan N covers even less of the Part B gaps for you, and lets you handle some reasonable copays in exchange for a lower monthly price. Keep in mind that the less expensive plans (in terms of monthly premiums) are generally going to result in higher out-of-pocket costs if and when you need medical care. But premiums also vary considerably from one health insurer to another, even for the exact same coverage.
Also, note that Medicare Supplement Plans C and F aren't available to enrollees who become Medicare-eligible after the end of 2019. If you were eligible before that, you can still buy those plans.
Medigap policies are identical across insurance companies. For example, Medicare Supplement Plan G will have identical coverage and benefits, no matter which company you buy it from. The only difference is how the companies determine pricing. Premiums can be based on community rating, in which each policyholder pays the same premium. They can be based on your age when you sign up, or issue-age rating, which helps if you sign up at a younger age. Or they can be based on your current age, or attained-age rating, meaning premiums keep going up as you get older. No matter which pricing method insurers use, though, premiums will increase over time because of medical inflation.
How Do You Buy a Medigap Policy?
Medigap policies are sold by private Medicare Supplement companies (which is why you get so much advertising from them when you turn 65 and first become eligible for Medicare). Medigap policies can only be purchased individually, meaning that any Medigap policy you buy will cover only you. Your spouse or partner has to purchase their own individual Medigap policy. Some companies, though, will give you a discount for having two people in the same household as their customers.
You can purchase a Medigap policy online, by mail, by phone or in person from a licensed insurance agent. The prices will vary among different insurance companies. Make sure to compare.
When Can You Buy Medigap?
As soon as you can. The best time to purchase your Medigap policy is when you first sign up for Medicare Part B and you're at least 65. The government says that every insurance company that sells these policies must give you 6 months from that time to buy a Medigap policy without having to answer any health questions (although you can have a waiting period for pre-existing condition coverage that can last for up to six months after your policy starts, if you didn't have prior coverage before enrolling in Medicare and Medigap).
After that six-month enrollment window has passed, you will have to answer a long list of health questions (including having to provide your prescription history) when you apply to buy a Medigap policy in most states. You risk being denied coverage by waiting to sign-up.