What You Need to Know

A Medicare Supplement plan can help pay healthcare expenses not covered by Original Medicare.

You must be enrolled in Medicare Part A and B to qualify for a Medigap policy.

You can choose from 12 Medigap policies in Virginia, including two high-deductible options.
While Original Medicare (Medicare Part A, for hospital insurance, and Part B, for outpatient services) helps to cover many healthcare expenses, you'll still be responsible for some costs like copayments and deductibles. These expenses can quickly add up.
A Medigap policy, also called a Medicare Supplement plan, offers additional coverage for expenses not covered by Original Medicare. Medicare Supplement Insurance, provided by private insurers, can help to reduce or eliminate out-of-pocket costs.
When Can You Enroll in Medigap?
Enrolling in a Medigap policy in Virginia is easiest during your Open Enrollment Period (OEP).1 Your six-month OEP automatically starts the month you turn 65 and are enrolled in Medicare Part B. During your OEP, you can buy any Medicare Supplement plan, even if you have a preexisting condition like diabetes. An insurance provider won't be able to charge you more or deny you coverage because of your preexisting condition. You can also change your plan if you decide that it isn't the right one for your needs.
Once your Open Enrollment Period ends, enrolling in a Medigap plan becomes more complicated. An insurance provider can charge you more for coverage or deny you coverage because of a preexisting condition. Your health insurance company might require a six-month waiting period before your coverage starts.
If you need to enroll in Medigap outside of your OEP, certain protections can make that easier. You may qualify for a guaranteed issue right in certain situations, like your current plan leaving Medicare.2 With a guaranteed issue right, an insurance provider must sell you a policy without charging you a higher cost or requiring other restrictions.
During a Special Enrollment Period, you can also make changes to your Medigap policy.3 You can qualify for a Special Enrollment Period in certain situations, such as losing your current coverage or moving. The type of qualifying event you experienced will determine the types of changes you can make to your plan during the period.
When to Enroll
The best time to sign up for a Medicare Supplement plan is during your Open Enrollment Period.
What Are the Most Popular Medicare Supplement Plans?
In Virginia, you can choose from 12 Medicare Supplement plans, including two high-deductible plans.4 Each letter plan is the same across different insurers. Each plan offers slightly different levels of coverage, premiums, deductibles, and copayments. Carefully review each plan to decide which option is right for your needs.
Medigap Plans F, G, and N are some of the most popular options. Note: Plan F isn't available if you qualified for Medicare after January 1, 2020.
Medicare Supplement Plan F
Plan F offers the most comprehensive coverage and carries the highest monthly premium. It includes:
Medicare Supplement Plan G
Plan G offers coverage similar to Plan F, but it excludes the Medicare Part B deductible:
Medicare Supplement Plan N
Plan N doesn't cover the Medicare Part B deductible or Part B excess charges, but it also has lower premiums than Plans F and G:
How Do You Choose a Medicare Supplement Plan?
If you choose a Medigap policy in Virginia that covers the types of medical expenses you face most often, you'll get the best value out of that plan. You might find that a plan with a higher premium could actually be a better choice for you if it saves you money on your most common healthcare costs. To find the plan that's the best match for your needs, look for one that features the coverage you need with a premium that you can afford.
How Much Do Medigap Policies Cost?
Medicare Supplement Insurance plans in Virginia vary in cost and coverage. Copayments and deductibles can vary as well. These examples reflect the premium costs for a 65-year-old female and male in Virginia that doesn't use tobacco:
65-Year-Old Woman, No Tobacco Use
65-Year-Old Man, No Tobacco Use
What Companies Sell Medigap in Virginia?
What If You Want to Change Your Medigap Policy?
After your Medigap Open Enrollment Period has ended, it's difficult to change your Medicare Supplement plan in Virginia because carriers can use medical underwriting to accept or deny application for coverage. The only exceptions are if have a guaranteed issue right or a Special Enrollment Period. Because it can be hard to change your policy, it's important to research each policy and choose the one that's right for you during your Open Enrollment Period. That way, you won't need to change your plan later.
Outside Open Enrollment
In certain situations, you can enroll or make changes outside your OEP.
What Are Alternatives to Medicare Supplement?
If a Medicare Supplement plan in Virginia isn't right for you, Medicare Advantage plans, also known as Medicare Part C, are another option.6 Medicare Advantage plans are offered by private insurers and must include the same basic coverage as Original Medicare. Many plans include prescription drug benefits, which aren't included in Medigap policies. (If you need drug coverage, consider enrolling in a Medicare Part D prescription drug plan.) They also limit your annual out-of-pocket costs. However, most plans limit coverage to in-network providers.
What Are Medicare Resources in Virginia?
Snippet Render Is Present – D3 cannot be loaded in editor mode. Go to preview or publish mode.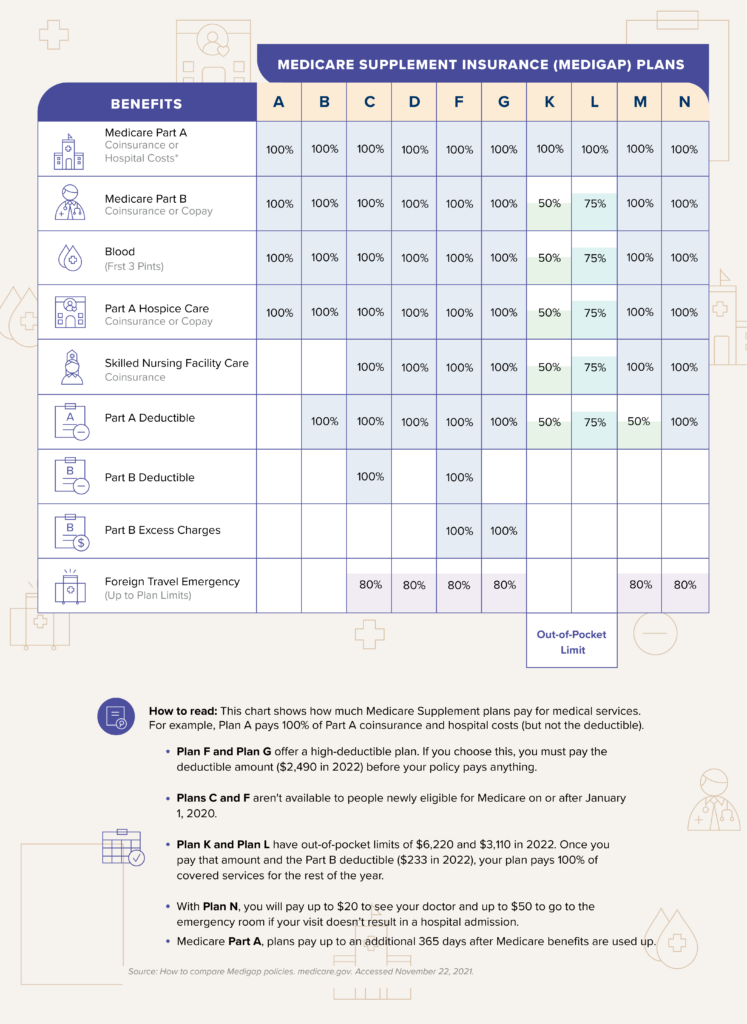 Next Steps
If a Medicare Supplement plan in Virginia will best fit your health needs, take time to research the available plans. Decide what level of coverage and cost best fits your needs and your budget. That way, you'll be able to choose the right plan when it's time to sign up.