If you're one of the 500,000-plus members of Medicare Part A and B, or Original Medicare, in Louisiana,1 you know it can leave you with extra costs. Original Medicare doesn't offer 100% coverage, and it doesn't cap your out-of-pocket costs. A Medicare Supplement plan can help reduce those bills.
Medicare Supplement, or Medigap, will pay some or all of the costs not covered by Original Medicare. In Louisiana, more than 138,000 people have Medigap policies.2
You can choose from 12 Medicare Supplement plans, or Plans A through N. Each plan provides varying levels of coverage.
For example, Plan G, a popular plan for people who turned 65 on or after January 1, 2020, covers most medical expenses after you pay the Medicare Part B deductible ($198 in 2020). An average monthly premium in Louisiana is around $250 per person.
What You Need to Know

Medicare Supplement plans can help you lower your out-of-pocket costs from Original Medicare.

There are multiple types of Medigap policies available from private insurance companies.

You can shop around by checking the individual companies or working with a Medicare specialist.
Your premium will vary based on factors like where you live, your age, your gender, and tobacco use. Different insurance companies may charge different rates for the same plan. Some companies offer "community rates," which means you will pay the same premium regardless of your age. Other companies offer "attained age" rates, which means your premium is based on how old you are when you purchase coverage and can change as you get older.
If you are a male, age 70, living in Lafayette, you could pay between $137 and $458 for Plan F — the most popular plan for people who became eligible for Medicare Part A before January 1, 2020. (Plan F isn't available to those new to Medicare as of January 1, 2020.)
If you move to New Orleans, you could pay between $160 and $585, according to a search for Medigap policies.3 See the charts below with three popular plan options for both a 65-year-old female and male, non-tobacco users in Louisiana.
65-Year-Old Woman, No Tobacco Use
65-Year-Old Man, No Tobacco Use
What Companies Sell Medigap in Louisiana?
When Can You Enroll?
Your Medigap Open Enrollment Period begins the month you turn 65 and are enrolled in Medicare Part B.
This is the best time to enroll in a Medigap policy since it gives you a guaranteed issue right. Any insurance company you apply to must take you, no matter what your health is like or whether you have preexisting conditions. You'll get the best prices, too. In Louisiana, insurers are not allowed to exclude preexisting conditions.4
Outside of the Open Enrollment Period, you may need to provide health history information when applying. Companies can either raise your rates or deny coverage based on your health.
What Is a Special Enrollment Period for Medicare?
In some situations, you are eligible for a Special Enrollment Period to buy a Medigap policy:
• You lose your employer coverage
• Your insurance company cancels your plan through no fault of yours
• You started with a Medicare Advantage plan (see below) within the first 12 months of Medicare eligibility and you want to change to a Medigap policy
You'll need to provide proof that you qualify for a Special Enrollment Period, so hang on to any information you receive about losing coverage.
What Are the Most Popular Plans?
For people who qualified for Medicare before January 1, 2020, Plan F is the most popular plan. In general, it covers 100% of costs not covered by Original Medicare. Among those who don't qualify for Plan F, Plan G is the most popular plan.
Plan G covers everything Plan F covers except the Medicare Part B deductible.
A more budget-conscious choice is Plan N. It has a lower monthly premium than Plans F or G, and requires copays of $20 for office visits or $50 for emergencies. Plan N doesn't cover the Part B deductible or Part B excess charges.
How Do You Pick a Plan?
Each letter plan offers the same benefits across insurers, but pay attention to what the insurers charge. Here are some details to compare:
Age rates versus community rates
Any discounts offered for certain circumstances or lifestyle choices
When your premiums will change (this is usually based on when the plan renews)
If the plan includes additional benefits, such as fitness discounts
Whether you can go to any doctor that accepts Medicare, or whether there's a network involved
Most insurance companies have toll-free numbers to call and get your questions answered by trainer professionals. There are over 40 insurance companies offering coverage, including AARP/UnitedHealthCare, Blue Cross Blue Shield of Louisiana, Humana, PanAmerican, and Transamerica. You can also talk to a Medicare-certified insurance agent.
Go "Window" Shopping
Check out the different types of Medicare Supplement plans to see which works best for you.
What If You Want to Switch Plans?
If you need more benefits or a lower-cost plan, you might want a different Medigap policy. Generally, you can switch Medigap policies in certain situations, when you have a guaranteed issue right or you're within your Open Enrollment Period. If you switch, you'll have 30 days to decide if you want to keep the new policy. This is the "free look period." You'll have to pay both premiums for that month. Afterward, be sure to cancel your old policy.5
What Are Alternatives to Medigap?
Medicare Advantage plans, or Medicare Part C, provide replacement coverage for Original Medicare and frequently include vision, dental and prescription drug coverage. Medicare Advantage plans offer a cost-effective option but work much like an HMO or PPO, meaning you'd be restricted to in-network providers and pay more if you go outside the network. They set an out-of-pocket maximum for medical services.
What Are Medicare Resources in Louisiana?
If you need help with Medicare costs, the Louisiana State Department of Insurance offers information on Medicaid and prescription drug programs.
You can also receive free counseling services through the Senior Health Insurance Information Program (SHIP). These trained volunteers can assist you in answering questions about plan options.
Snippet Render Is Present – D3 cannot be loaded in editor mode. Go to preview or publish mode.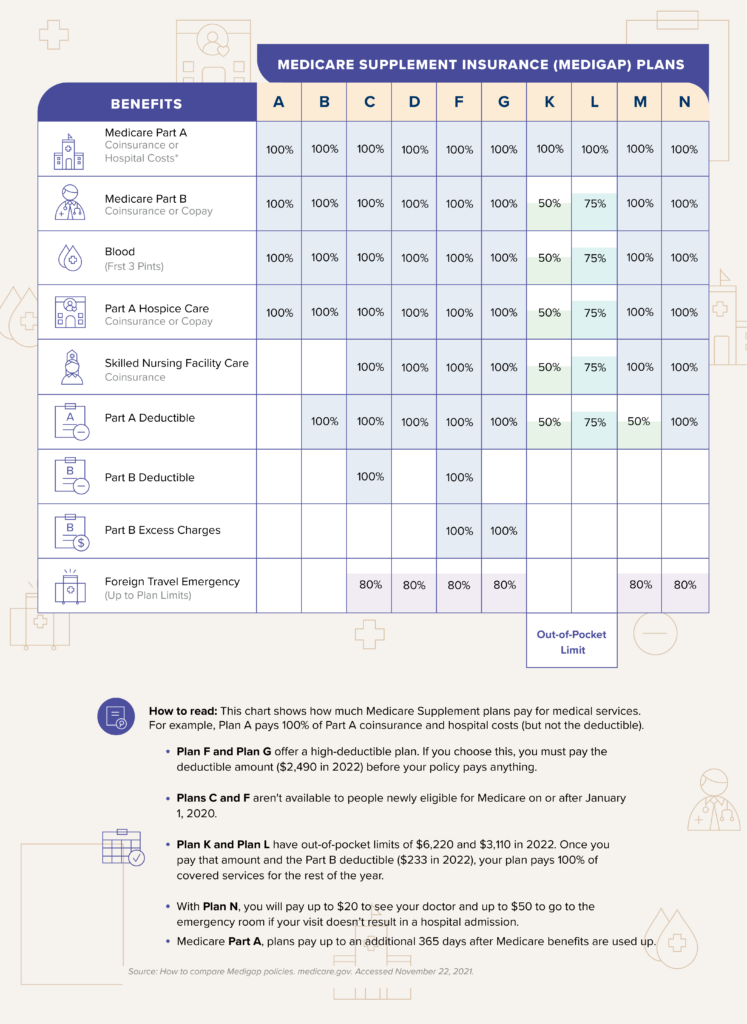 Next Steps
Check out the different types of Medicare Supplement plans to see which works best for you. Then reach out to the insurance companies and compare costs to be sure you're getting the best deal on your plan.