With Florida being a top retirement destination, it's no surprise that more than 4.6 million people on Medicare call the Sunshine State home.1 Living out your golden years can come with rising healthcare costs. But Medicare Supplement plans in Florida can help manage your medical expenses.
What You Need to Know

For Medigap policies, you pay a flat monthly premium and your plan covers some to all of your approved Part A and B out-of-pocket costs. Medicare pays its share and then your policy kicks in.

You can pick from multiple Medicare Supplement plans to fit your needs and budget.

You can visit any Medicare provider nationwide, and policies are guaranteed renewable as long as you pay your premiums on time.
What Are Medicare Supplement Plans in Florida?
Florida Medicare Supplement plans, also called Medigap, are private health insurance policies available to beneficiaries 65 and older as well as those under 65. Policies help pay deductibles, copayments or other costs not 100% covered by Original Medicare, or Medicare Part A (hospital services) and Part B (doctor and preventive services). Florida Medigap policies come in 10 varieties: A, B, C, D, F, G, K, L, M, and N. Benefits are the same no matter which company you buy from, but prices vary.2
If you want to enjoy your retirement years, you need a plan that can keep up with your healthcare expenses. That's where Medigap comes in. As long as you have Original Medicare, you can enroll.
How Do You Choose a Medigap Policy in Florida?
You should choose a Medigap policy to fit your needs, budget, and lifestyle. Medicare doesn't put a cap on out-of-pocket costs. If you want coverage for most of your out-of-pocket expenses, a comprehensive policy might fit your needs. If you don't have a lot of health needs, a lower-cost policy might be best. Here are some questions to think about:
Do your medical needs require frequent doctor's visits or skilled nursing care? You may need a plan that covers 100% of your coinsurance for those services.
Do you anticipate any extended hospital stays? You may want a plan that covers your Part A coinsurance and deductible.
Do you travel overseas often? Choose a plan that has foreign travel benefits. Most Florida Medigap policies cover qualifying emergency care overseas.
Snippet Render Is Present – D3 cannot be loaded in editor mode. Go to preview or publish mode.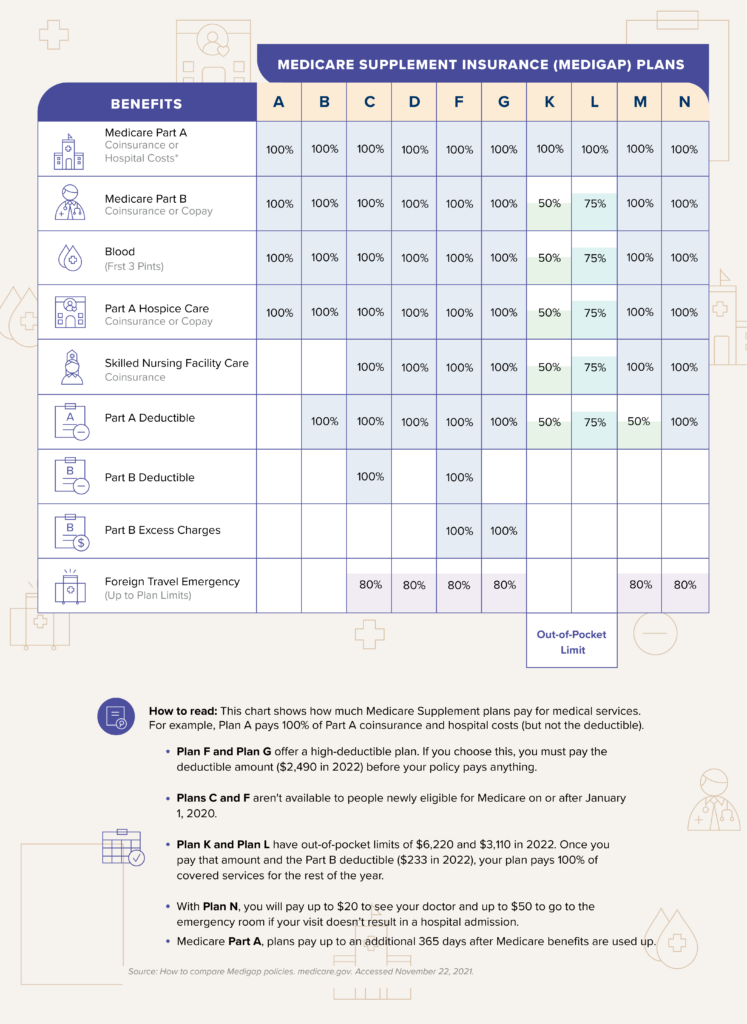 When Can You Enroll in Medigap in Florida?
You can get Medigap at any time to join the more than 922,000 Floridians who are already enrolled.3 But the best time to sign up is during your six-month Medigap Open Enrollment Period (OEP), which starts once you turn 65 and enroll in Medicare Part B. Companies can't make you answer medical questions during this time, which means you can buy any policy without paying more or being denied coverage because of your health.4 The opposite is true if you apply outside of your OEP — unless you have another guaranteed issue right to buy Medigap, which usually happens when you have other insurance coverage that changes in some way or you lose coverage.5
Florida also has a six-month open enrollment if you're under 65 and qualify for Medicare due to a disability or end-stage renal disease (ESRD). But you'll pay more for a policy. Because of this, you must get another OEP once you turn 65 to get better rates.6
What If You Want to Change Your Florida Medicare Supplement Plan?
If your policy doesn't provide the benefits you need or costs too much, you can switch to another one at any time. But if your Medigap open enrollment has ended and you don't have another guaranteed issue right, you may have to answer health questions. Florida gives you a 30-day "free look period" to decide if you want to keep your policy. If you want to buy another policy during this time, make sure you want to keep the second policy before you cancel the first one.7
What Are the Most Popular Medigap Policies in Florida?
Medigap policies F, G, and N are typically the most popular options. In the Sunshine State, about 922,000 enrolled in Medicare Supplement plans. Of that group, almost eight out of 10 opted for Plan F, G or N.8
Medigap Enrollment in Florida
| | | |
| --- | --- | --- |
| Plan Type | Enrolled (Rounded) | Percent of Total Enrolled |
| Plan F | 578,000 | 63% |
| Plan G | 47,000 | 5% |
| Plan N | 82,000 | 9% |
Source: The State of Medicare Supplement Coverage. ahip.org. Accessed October 22, 2021. Data is for Medigap enrollment in 2019, the most recently available year.
Plan F pays all your Medicare out-of-pocket costs, which usually makes it the most expensive. But there's a high-deductible version of Plan F that has lower monthly premiums. Plan F is not available to people who qualify for Medicare on or after January 1, 2020.
Plan G pays for all the same benefits as Plan F, except for the Part B deductible ($233 in 2022).9 Plan G has become more popular since newly eligible beneficiaries can't buy Plan F. Plan G also has a high-deductible option.
Plan N covers nearly all the same benefits as F and G, except that it doesn't pay for the Part B deductible or the Part B excess charge.
How Much Do Medigap Policies Cost in Florida?
Florida Medicare Supplement premiums don't increase based on age. So if you buy a policy at 65, you'll pay the rate for that age even as you get older — just as long as you keep the same policy.10 As of October 2021, a 65-year-old nonsmoking female can expect to pay as follows:11
Plan F: $182 to $250 per month; the high-deductible option ranges from $51 to $91 per month with a $2,370 deductible
Plan G: $166 to $215 per month; the high-deductible version costs between $51 and $83 per month with a $2,370 deductible
Plan N: $124 to $182 per month
Who Sells Medicare Supplement Plans in Florida?
There are at least 11 Medicare Supplement insurance companies in Florida as of 2020:12
What Are the Alternatives to Medigap in Florida?
Florida Medicare Advantage plans (known as Part C) are an alternative to Medigap. They work much like HMO and PPO plans. As of 2020, roughly half of Florida beneficiaries are enrolled.13
Along with Medicare Part A and B, Medicare Advantage plans in Florida provide extra benefits, such as prescription drug, dental, and vision coverage. If you choose Part C, you can't have a Medicare Supplement policy at the same time.14 Medicare Advantage plans offer comprehensive coverage, but they also restrict you to their provider network.
What Are the Florida Medicare Resources?
If you need help with Medicare information or financial assistance in Florida, you can use the following resources:
Medicaid and Medicare Savings Programs in Florida are run by the Agency for Health Care Administration. If you qualify as low income, you can get help to reduce your Medicare premiums, deductibles, and coinsurance. You typically don't need to buy Medigap if you qualify for full Medicaid benefits.
The Medicare Extra Help program from Social Security is another resource for low-income residents. If you qualify, you can get help with your Part D (prescription drug) premiums, copays, and deductibles.
Next Steps
Original Medicare can leave you with high out-of-pocket expenses. Florida Medicare Supplement plans can help you keep your costs down. If you're ready to see which plans are available, you can reach out to the insurance companies or use this free tool to find a Medicare Supplement plan in Florida today.