What You Need to Know

Texas Medicare Supplement plans help you pay for medical expenses that aren't covered by Medicare.

It's best to enroll in a Medigap policy during your six-month Open Enrollment Period starting the month you turn 65 years old.

Medicare Supplement plans are guaranteed renewable, which means your insurance provider can't cancel your plan as long as you pay your premiums.
Are you a Texas resident wondering if Medicare will pay for all of your medical expenses?
A Medicare Supplement plan could help you pay the hospital and doctor bills not fully covered by Medicare Part A and B, or Original Medicare.1 Learn more about Medicare Supplement plans, also called Medigap policies, in Texas to find out if they're right for you.
What Are Medicare Supplement Plans in Texas?
When you enroll in Medicare Part A and B, you receive coverage for hospital visits, doctors' appointments and medical supplies. However, Medicare only covers a certain amount of most bills, and there isn't a limit on out-of-pocket costs. You'll still have to pay a deductible and may have coinsurance costs.2
Medicare Supplement is a type of health insurance designed to cover the costs left out of Original Medicare. Medigap policies are offered by private health insurance providers and overseen by the Texas Department of Insurance.
When Can You Enroll in Medigap?
The enrollment periods for Medicare and Medigap policies in Texas are not the same. Medicare enrollment doesn't include a Medigap policy. You'll need to buy your Medigap policy separately.
There are two times you can add a Medicare Supplement plan to your Medicare coverage:3
Medigap Open Enrollment Period: Your Medigap Open Enrollment Period is a six-month period starting the month you turn 65 and are enrolled in Medicare Part B. This is the best time to enroll because you'll have the most options and the best prices. During this period, you can sign up for any Texas Medigap policy regardless of your health history.4
Outside Open Enrollment Period: You can buy a Medicare Supplement plan anytime you're enrolled in Medicare Part A and B. Insurance companies can deny coverage or charge you more based on any health problems you have when you apply outside of your Open Enrollment Period. The exception is if you have a guaranteed issue right because you lost health coverage in certain circumstances. If you have a guaranteed issue right, Medigap providers in Texas can't charge you more or limit your policy choices based on your health. You'll need to show the insurance company proof that you lost health coverage to get a guaranteed issue.5
What Are the Most Popular Medicare Supplement Plans?
Medigap policies are standardized, but insurers in Texas don't have to offer every type of plan. As of December 2017, 32.7% of Texas residents with Medicare were also enrolled in a Medicare Supplement plan.6
Of those with Medigap policies, most Texans choose Medicare Supplement Plans F, G and N.7
Plan F: Plan F covers your Medicare Part A coinsurance and hospital costs up to 365 days after you use up your Medicare benefits. It also covers coinsurance for Medicare Part B, Part A hospice care and skilled nursing facility care. Plan F pays for your deductible for Medicare Part A and B.
Plan G: Medigap Plan F is only available for Texans who became eligible for Medicare before January 1, 2020. If you become eligible after that date, you'll get the most benefits from Plan G. Plan G has almost the same coverage as Plan F, except that it doesn't pay for your Part B deductible.
Plan N: Plan N covers Medicare Part A coinsurance, deductibles and hospice care. It also covers your Medicare Part B coinsurance, although some types of office visits require a copay. Plan N doesn't cover your Medicare Part B deductible or excess charges for Part B services if you go to a doctor who charges more than Medicare agrees to pay.
How Do You Choose a Medicare Supplement Plan?
Once you decide that a Medigap policy is right for you, start comparing plans to get the best coverage. Consider your health, age, future travel plans and specialized care needs (for instance, if you plan to move to a skilled nursing facility) to find the right match.
Snippet Render Is Present – D3 cannot be loaded in editor mode. Go to preview or publish mode.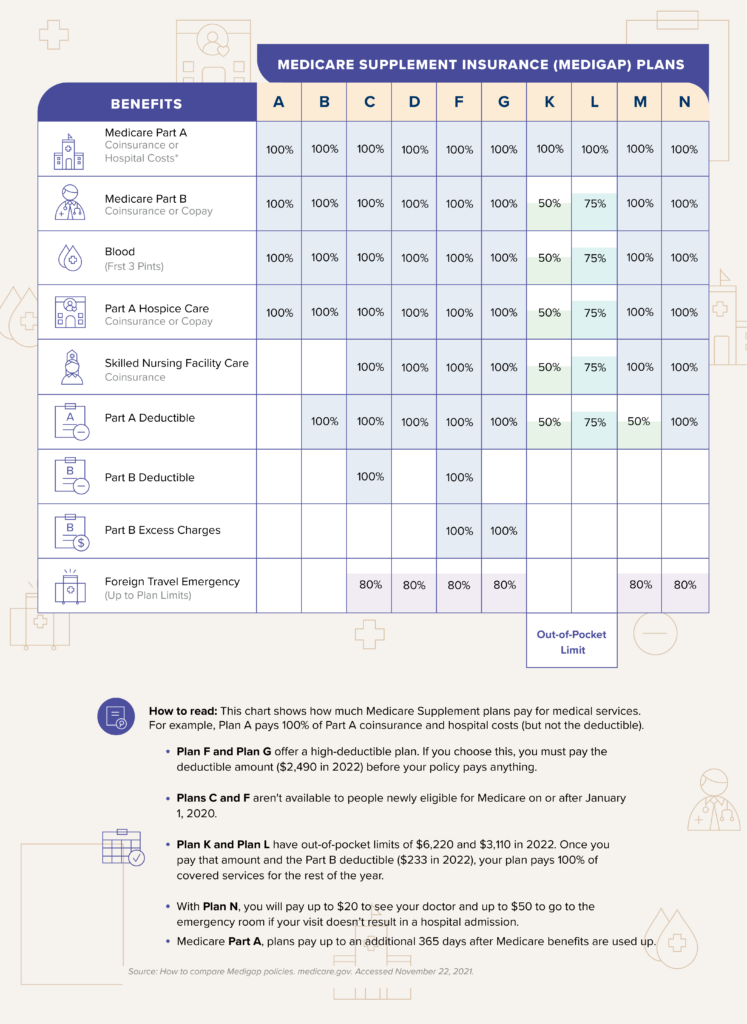 How Much Do Medigap Policies Cost?
Although Medigap policies are standardized, the cost of premiums is not. Your Medicare Supplement plan in Texas might cost twice as much at one company as at another.
Insurance companies rate Medigap policies differently.8 Be sure to ask which type of rating they use:
Community-rated: The monthly premium is the same for everyone, regardless of age.
Issue-age-rated: Your premium is based on your age when you enroll and stays the same.
Attained-age-rated: Your premium goes up each year as you age.
65-Year-Old Woman, No Tobacco Use
65-Year-Old Man, No Tobacco Use
What Companies Sell Medigap in Texas?
What If You Want to Change Your Medigap Policy?
You can apply for a new Medigap policy and switch at any time. However, if you're outside your Medigap Open Enrollment Period, insurance companies can deny your application. They can also charge you a higher premium or limit your plan options.
What Are Alternatives to Medicare Supplement?
Medicare Supplement plans aren't your only option. You may be eligible to get additional health coverage from other policies or programs, including:
Medicare Advantage: Also known as Medicare Part C, Medicare Advantage plans cover everything from Part A and B. They usually offer additional benefits, such as prescription drug, vision or dental coverage. The plans work like a PPO or HMO, meaning you need to use in-network providers.
Employee Group Plans: If you or your spouse is still working, you might be eligible for a group plan through your employer.
Medicaid: Medicaid is a government healthcare program for low-income Texans.
What Are Medicare Resources in Texas?
Want to know more about Medicare and Medigap policies in Texas? The state offers several agencies and programs to help you better understand your healthcare options.
Next Steps
If you're nearing 65 or recently enrolled in Medicare, it's a good idea to sign up for a Medigap policy as soon as possible. Start by researching the different Medicare Supplement plans and looking at insurance providers in Texas that offer the plan you want. Be sure to compare how each insurance company rates the plan when you're comparing costs.