What You Need to Know

A Medicare Supplement plan in Maine helps pay for expenses not covered by Original Medicare, like your deductible.

There are 10 standardized plan options.

Medigap policies don't include Medicare Part D plans. You'll need to purchase an additional Part D plan for prescription drug coverage.
Getting ready to turn 65 and join the federal Medicare program in Maine? You'll want to consider enrolling in a Medigap policy, which can help pay for out-of-pocket Medicare costs.
Original Medicare, or Medicare Part A and B, won't pay for all of your medical costs. It doesn't cover deductibles or copays. Medigap policies from private companies can help cover those expenses.
When Can You Enroll in Medigap in Maine?
You need to enroll in Medicare to be eligible for a Medigap policy in Maine. Once you've turned 65 and enrolled in Medicare Part B, you can join a Medicare Supplement plan from a private insurance provider.
Medigap Open Enrollment Period (OEP)
This six-month period after you turn 65 and join Medicare Part B is the best time to enroll in a Medicare Supplement plan. Private insurance providers can't reject your application based on health issues. They also can't charge you more or make you wait for coverage due to preexisting conditions like diabetes or cancer. This means you'll likely get the most plan options and best prices during your OEP.1
Outside Open Enrollment Period
There are no restrictions on when you can join a Medigap policy. If you wait until after your OEP to sign up, though, you'll have to go through medical underwriting. This means that insurance companies can deny your application or charge you higher prices based on health conditions.
Guaranteed Issue
Some situations give you a guaranteed issue right. Insurance companies can't charge you higher rates or turn you down based on your health. For example, you're on an employer's plan, but that plan is ending. When it ends, you can join a Medicare Supplement plan without worrying about being rejected or charged more due to health concerns.2
Special Enrollment Period
In some circumstances, you'll get access to a special enrollment period where you're guaranteed coverage. These circumstances include:
Moving out of the service area of a Medicare Advantage plan
Joining a Medicare Advantage plan and deciding you want Original Medicare instead
Needing to replace your Maine Medicare Supplement plan because it isn't offered anymore or it's leaving Medicare
When to Enroll
The best time to sign up for Medicare Supplement Insurance is during your Medigap Open Enrollment Period.
What Are the Most Popular Medicare Supplement Plans in Maine?
Just under 67,000 Maine residents enrolled in Medigap policies in 2019, the most recent date available.3
Plan F: The most popular plan covers costs related to Medicare Part A hospital insurance. It helps pay for coinsurance for hospitals, hospice care or skilled nursing facility care. It also helps pay for up to three pints of blood as well as your Part A and Part B deductibles. If you become eligible for Medicare after January 1, 2020, you're not eligible to enroll in Plan F.
Plan G: This plan is a common alternative to Plan F. It covers the same costs, like hospital or skilled nursing coinsurance. Medigap Plan G doesn't cover your Part B deductible ($233 in 2022).
Plan N: This plan covers Medicare Part A coinsurance and deductibles. You'll also get coverage for your Medicare Part B copayments. The plan doesn't cover the Medicare Part B deductible or Medicare Part B excess charges. For example, Medicare will pay $450 for a service, but your doctor charges $500. You'll have to cover the excess $50 out-of-pocket.
How Do You Choose a Medicare Supplement Plan in Maine?
Since Maine Medicare Supplement Insurance plans are standardized, you can easily compare coverage between plans. Remember to consider current and future health needs, including prescriptions. Medigap policies don't include coverage for prescription drugs. You'll have to purchase a separate prescription drug plan, or Medicare Part D, to cover medications.
Snippet Render Is Present – D3 cannot be loaded in editor mode. Go to preview or publish mode.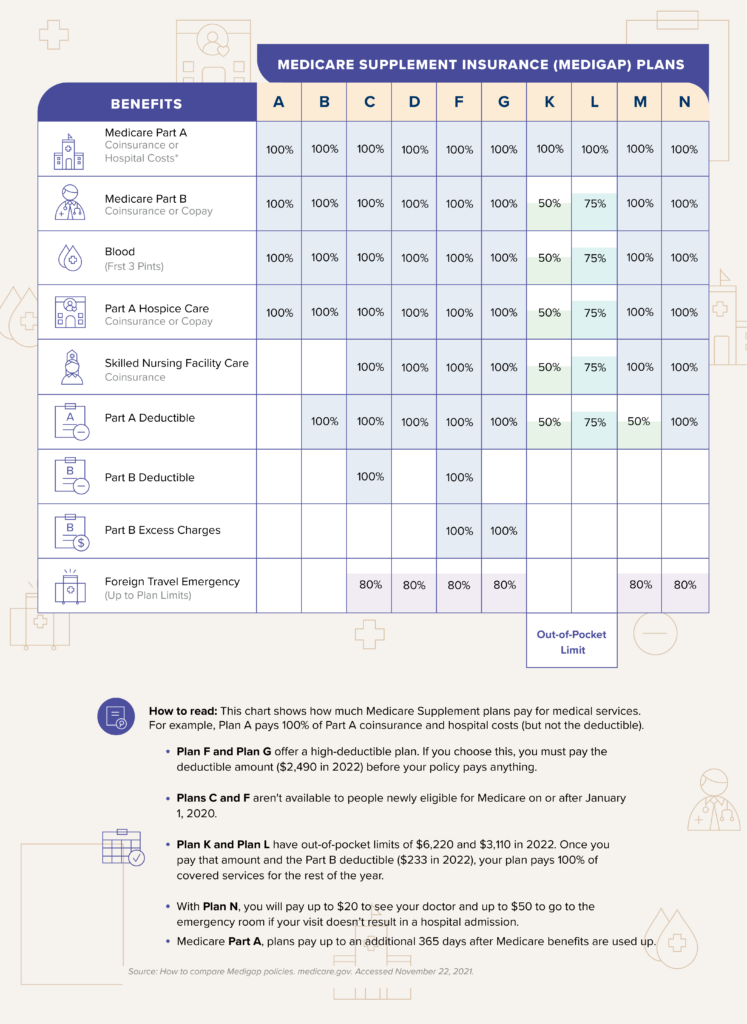 How Much Do Medigap Policies Cost in Maine?
Insurance companies price Medicare Supplement Insurance plans in Maine using three ratings:4
Community-rated: The premium is the same for everyone on the plan.
Issue-age-rated: Your premium is based on your age when you sign up and won't increase as you get older.
Attained-age-rated: Premiums go up as you get older.
Medigap Price Range in Maine
These costs are on top of the Medicare Part B premium ($170.10 for most Medicare members in 2022).
Who Sells Medigap in Maine?
You can buy a Medigap plan from any of these 12 carriers.
What If You Want to Change Your Medigap Policy in Maine?
You can switch Medigap policies in Maine at any time. Simply apply for a new plan. If you're accepted, call your old plan's provider and request to end coverage. Remember that you could be turned down or charged more if you change plans without a guaranteed issue right outside of your OEP.
Outside Your OEP
Outside open enrollment, you can still sign up for a Medigap policy or switch to a new one, but you might get charged more or rejected over health issues.
What Are Alternatives to Medigap in Maine?
Medicare Advantage plans in Maine plans are an alternative to Original Medicare and Medigap. Also known as Medicare Part C, Medicare Advantage plans are sold by insurers and provide the same coverage as Medicare Part A and B. Most plans cover prescription drugs and use a PPO or HMO provider network.
What Are Medicare Resources in Maine?
Next Steps
If a Medigap policy offers the right amount of supplemental insurance for you, compare plan costs from different Medigap carriers in Maine before you turn 65 to get the best price and most coverage options. Be sure you're ready to enroll once you're eligible for Original Medicare.