What You Need to Know

Indiana Medicare Supplement plans pay for out-of-pocket costs like coinsurance.

Medicare Supplement plans are standardized.

You can buy a Medigap policy from a private insurance company in Indiana.
Basic coverage from the federal Medicare program, or Medicare Part A and B, won't pay for all of your medical expenses. Medicare Supplement Insurance plans in Indiana help cover out-of-pocket costs.
Medicare Supplement plans, also called Medigap policies, are supplemental insurance from private insurance companies. Your policy can help pay for out-of-pocket costs like deductibles or copays, which aren't covered by Original Medicare.
When Can You Enroll in Medigap?
You have to enroll in Medicare before you buy a Medicare Supplement Insurance plan in Indiana. Once you've joined Medicare, you're eligible to get a Medigap policy.
Medigap Open Enrollment Period (OEP): This is the six-month period after you turn 65 and enroll in Medicare Part B. You'll get the most plan options during this time, because insurance companies can't deny coverage based on your health. Outside of your initial enrollment period, a private insurance company can use a medical exam to decide if it will cover you. You can't restart your OEP, so it's best to research plans before turning 65.1
Outside Open Enrollment Period: You can apply for a Medicare Supplement plan outside of your OEP. Insurers use medical underwriting to learn about your medical history. Your application could be denied if you have health issues. Insurance carriers can also charge more because of your health.
Guaranteed Issue: There are situations when insurance companies have to let you join a Medicare Supplement Insurance plan. This means you have guaranteed issue rights. You can't be denied or charged more because of your health. For example, you're on an employer's health insurance plan but the plan is ending. You can join Medicare and sign up for a Medigap policy with a guaranteed issue right.2
Special Enrollment Period: The best time to sign up for Medigap policies in Indiana is during your Open Enrollment Period. However, certain events can trigger a Special Enrollment Period where you have guaranteed issue rights. Examples of these situations include your current plan leaving Medicare, moving outside of your plan's service area, or enrolling in a Medicare Advantage plan and deciding to switch back to Original Medicare.
Same Plan, Different Premium
A plan's monthly premium can vary across different insurance companies.
What Are the Most Popular Medicare Supplement Plans?
Plan F: You won't be able to get this plan if you're newly eligible for Medicare on or after January 1, 2020. If you're eligible, this plan helps cover Medicare Part A hospital costs. It covers hospital coinsurance and can cover coinsurance for hospice or skilled nursing facility stays. You can get coverage up to 365 days after using your Medicare benefits. Plan F also covers Medicare Part A and B deductibles.
Plan G: This plan is similar to Plan F. It covers almost the same costs, except your Medicare Part B deductible. Plan G is a good option if you can't sign up for Plan F. A high-deductible plan option may be available as well.
Plan N: This plan helps pay for Medicare Part A coinsurance and deductibles. It also covers hospice care. Except for certain copayments, Plan N covers Part B coinsurance. Be aware it won't cover Medicare Part B excess charges if your doctor charges more than Medicare agrees to pay.
Most Popular Plans
The most popular Medicare Supplement Insurance plans are F, G and N.
How Do You Choose a Medicare Supplement Plan?
Find the right Medicare Supplement plan in Indiana by comparing options. Look at a plan's costs and coverage. Medicare Supplement plans don't include Medicare Part D prescription drug coverage. You'll need a separate plan for your medications.
Consider your future health needs when comparing as well. For example, you might plan to travel overseas. Some plans cover emergency care in case of a foreign travel emergency.
How Much Do Medigap Policies Cost?
Medicare Supplement Insurance plans in Indiana are standardized. Prices can vary by the insurance company. Insurance providers price plans in three ways:
Community-rated: Everyone on the plan pays the same monthly premium. Your prices won't change with age.
Issue-age-rated: Premiums are based on your age when you join the plan. The price stays the same as you age.
Attained-age-rated: Your premium goes up as you age.4
In Indianapolis you could pay between $93 and $1,036 a month to join Plan G. If you can join Plan F, the monthly cost could be between $115 and $1,152. These monthly costs are on top of the Medicare Part B premium. The Part B premium is $148.50 for most Medicare members in 2021.5
65-Year-Old Woman, No Tobacco Use
65-Year-Old Man, No Tobacco Use
What Companies Sell Medigap in Indiana?
What If You Want to Change Your Medigap Policy?
There's no specific time when you can change your policy. You can apply for a new Medicare Supplement plan in Indiana when you want. If you don't have a guaranteed issue right, the insurance company could charge more. It can also reject your application because of your health.
What Are Alternatives to Medicare Supplement?
Medicare Advantage (MA): Called Medicare Part C, this plan replaces Original Medicare coverage. You'll be covered by a private insurance policy. Medicare Advantage plans have to cover the same care as Medicare Part A and B. Most MA plans include a Part D prescription drug plan as well. You usually have to use in-network providers for care.
What Are Medicare Resources in Indiana?
Indiana State Health Insurance Assistance Program (SHIP): A free counseling program for Medicare beneficiaries. Get help choosing a Medigap policy or signing up for Medicare.
Indiana Department of Insurance: Indiana's state insurance department protects consumers from unfair insurance practices.
Indiana Medicaid: This program offers low or no-cost health insurance for eligible Indiana seniors and those with disabilities. You must meet income and other requirements to get benefits.
Snippet Render Is Present – D3 cannot be loaded in editor mode. Go to preview or publish mode.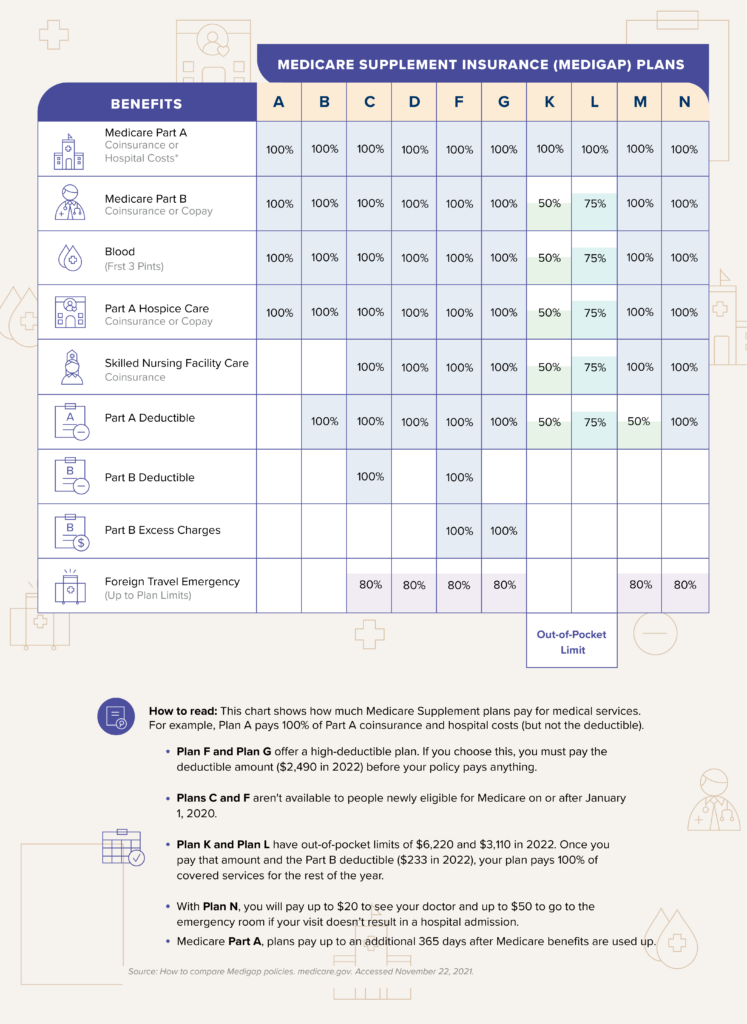 Next Steps
Get ready for your Medigap Open Enrollment Period by researching Medicare Supplement plans available in your area. Be sure to pick the plan that best fits your health needs and budget before you sign up.