What Are Medicare Supplement Plans in Delaware?
Original Medicare doesn't cover everything. Medicare members must pay out of pocket for coinsurance, deductibles and copayments. Delaware Medicare Supplement plans, also known as Medigap, help cover those costs. Private health insurance companies approved by the federal Medicare program offer these plans.
Medigap policies pay after Medicare. This means your healthcare providers submit your medical bills to Medicare first. Then your Medigap policy pays some or all of what Medicare doesn't, according to the terms of your policy.
Medicare Supplement insurance plans are standardized. That means a Medicare Supplement Plan A from one insurance company offers the same benefits as Plan A from another company.
Note: Medicare Supplement plans don't include prescription drug coverage. If you want drug benefits, you'll need a Medicare Part D plan.1
What You Need to Know

The best time to enroll in Medigap is during your Medigap Open Enrollment Period, which begins the month when you are 65 or older and are enrolled in Medicare Part B and lasts for six months.

Medigap policies don't include prescription drug benefits, so you'll need a separate Medicare Part D plan for coverage.

The cost of a Medicare Supplement Plan G for a 65-year-old nonsmoking male in Delaware ranges from $125 to $433 per month.
When Can You Enroll in Medigap?
You can enroll in a Medigap policy during your Medigap Open Enrollment Period. This period begins on the first day of the month when you are age 65 or older and enrolled in Medicare Part B, and it lasts for six months. During Medigap open enrollment, you can enroll in a plan without going through medical underwriting, the process by which insurance companies evaluate your eligibility by reviewing your medical history.2
Outside of Medigap open enrollment you can apply for Medicare Supplement insurance, but you can be turned down based on your health history. However, in certain situations you may have guaranteed issue rights, which means that an insurance company must sell you a Medigap policy and cover your pre-existing conditions without charging you more. You have guaranteed issue rights if you:
Are in a Medicare Advantage plan and the plan leaves Medicare or stops serving your area.
Have Original Medicare plus an employer plan and that plan is ending.
Have Original Medicare and a Medicare SELECT plan and you move out of the plan's service area.
Joined a Medicare Advantage plan when you were first eligible for Medicare Part A and you decide you want to switch back to Original Medicare.
Left a Medicare Supplement plan to join a Medicare Advantage plan and you want to switch back.
Lost your Medigap policy through no fault of your own.
Left a Medicare Supplement plan or Medicare Advantage plan because the plan misled you.3
What Are the Most Popular Medicare Supplement Plans?
Plan F has been the most popular Medicare Supplement plan because it covers the Medicare Parts A and B deductibles and all cost-sharing for Part A and B services, including Part A and Part B coinsurance.4 Over 50% of those with Medicare Supplement plans have Plan F.
However, Plan F is unavailable to anyone new to Medicare as of January 1, 2020. Those who were eligible for Medicare before January 1, 2020, can still buy Plan F as long as they're accepted by the insurance company selling the plan.5
Plan G, another popular plan, is similar to Plan F. It covers the Medicare Part A deductible but not the Medicare Part B deductible. It also covers all cost-sharing for Part A and B services.
Plan N has been increasing in popularity, and 17% of those with a Medicare Supplement have this plan.6 It covers the Medicare Part A deductible and most cost-sharing for Part A and B services. It has a copayment of $20 for some office visits and a $50 copay for emergency room visits that don't require hospital admission.7
Like Plan G, Plan N doesn't cover the Part B deductible. Doctors who don't accept Medicare assignments can charge an additional fee of 15%, which is called an excess charge. Plan N doesn't cover these excess charges.8
Most Popular Plans
Medicare Supplement Plans F, G and N are the most popular plans, but Plan F is no longer available to people new to Medicare as of January 1, 2020.
How Do You Choose a Medicare Supplement Plan?
The first step in choosing a Delaware Medicare Supplement plan is to review your plan options and decide which plan(s) you're interested in. Look at the benefits and consider what out-of-pocket expenses you can afford. Once you decide which plan you prefer, visit the Medicare Plan Finder or contact a few insurance companies directly to see whether they offer that plan (not all companies offer all Medigap policies).
Keep in mind that the plans are standardized, so each insurance company will offer the same benefits for any particular lettered plan. Choose a company that offers a competitive price and has a good reputation for customer service.9
Standardized Plans
Medicare Supplement insurance plans are standardized, which means that the benefits for any Plan B you choose, for example, must be the same as any other Plan B that's available.
How Much Do Medigap Policies Cost?
Each company sets its own Medicare Supplement plan premiums, or monthly costs. Delaware residents can purchase Plan G, for example, from 30 different insurance providers.
Costs vary because insurance companies can use three different methods to set prices: community-rated, which provides everyone with the same base price; issue-age-rated, where premiums are determined by your age when you buy the policy and don't increase due to age; and attained-age-rated, where the premium is based on your current age. Insurance companies can also take into account where you live and discounts they offer when determining your premium.10
65-Year-Old Woman, No Tobacco Use
65-Year-Old Man, No Tobacco Use
What Companies Sell Medigap in Delaware?
What If You Want to Change Your Medigap Policy?
You can change your Medigap plan at any time. However, keep in mind that when you're outside your Medigap Open Enrollment Period, you will be subject to medical underwriting. That means you can be denied coverage or charged more because of your health unless you qualify for guaranteed issue rights.11
What Are Alternatives to a Medicare Supplement Plan?
Medicare Advantage (MA) plans are an alternative to Medicare Supplement Insurance. These plans take the place of Original Medicare, providing your Medicare Part A and B benefits and covering some out-of-pocket costs. Most plans also include Medicare Part D benefits, which help cover prescription medications, vision, dental, and other benefits. These plans are often health maintenance organizations (HMOs), but there are preferred provider organization (PPO) and private fee-for-service (PFFS) plans as well.12
What Are Medicare Resources in Delaware?
Delaware Medicare beneficiaries have access to several Medicare resources, including the Delaware Medicare Assistance Bureau (DMAB), which is Delaware's state health insurance assistance program. The DMAB provides free insurance counseling to assist Medicare members. You can reach them by calling 1-800-336-9500 or by visiting a counseling site near you.
If you have a complaint about your Medicare Supplement plan, you can contact the Delaware Department of Insurance and file a complaint online or by calling 1-800-282-8611.
If you have limited income and assets, you may qualify for Delaware Medicaid. This program helps pay for healthcare, and you can apply for benefits online.
Snippet Render Is Present – D3 cannot be loaded in editor mode. Go to preview or publish mode.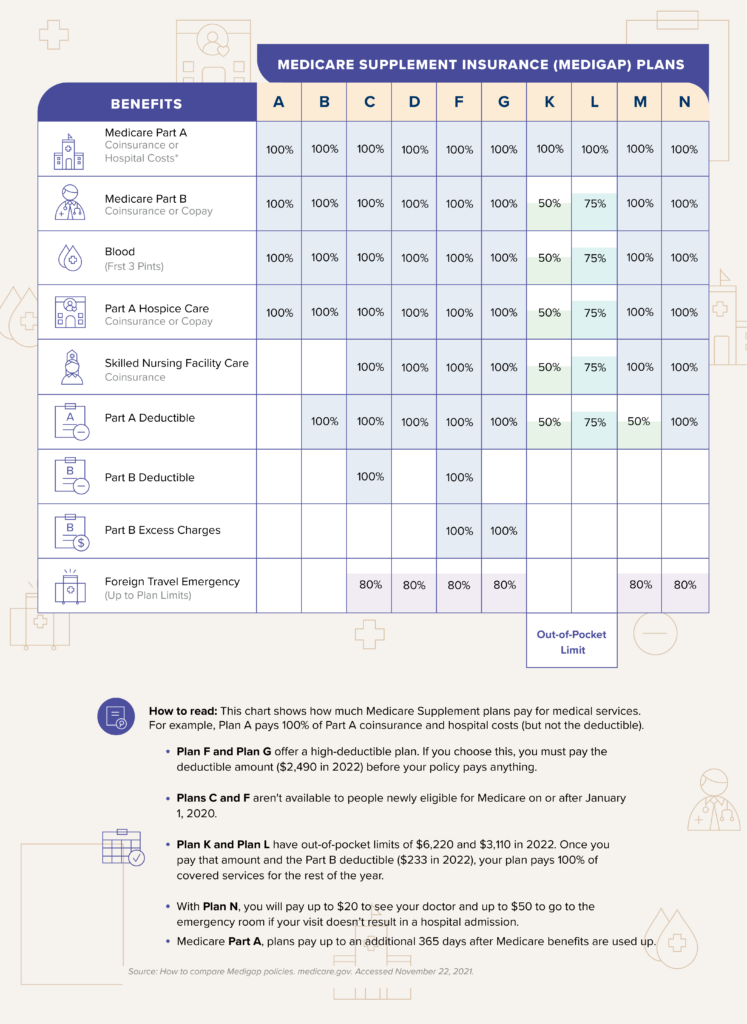 Next Steps
Medicare coverage on its own can leave you with significant out-of-pocket costs. To choose the Medicare Supplement plan that's right for you, review the plan options and visit the Medicare Plan Finder. Compare plan prices and research the companies you're interested in to get a sense of their customer service. Choose a plan with competitive pricing and excellent service—and don't forget to shop for and compare Medicare Part D prescription drug plans.