What You Need to Know

You must have Medicare Part A and B to buy a Medicare Supplement plan.

Medigap policies don't include prescription drug coverage.

The three most popular Medigap policies are F, G, and N.
Medicare is a federal health insurance program covering North Dakotans age 65 or older, plus younger people with certain health conditions. Original Medicare, or Medicare Part A (hospital care) and B (outpatient care), offers many benefits but only covers about 80% of medical expenses. This means you'll have to pay out-of-pocket costs like deductibles, coinsurance and copayments. Medicare also doesn't limit your annual costs.
To pay the costs not covered by Original Medicare, you can buy Medicare Supplement Insurance plans, also called Med Sup or Medigap, from private insurance companies. Medigap policies, named by letters, are offered as standardized benefit packages. For example, Plan G provides the same benefits across different insurers, though the price may be different.
North Dakota doesn't require insurance companies to offer Medigap policies to Medicare members under age 65. If plans are available, they may be expensive.
Medigap policies are guaranteed renewable as long as you pay your premiums, which are in addition to your Medicare Part B monthly premium ($170.10 in 2022). They don't include prescription drug coverage, or Medicare Part D. You'll need to buy a separate Part D plan for your prescriptions.
When Can You Enroll in Medigap in North Dakota?
Your first — and best — chance to enroll is during your one-time Medigap Open Enrollment Period. This six-month period starts when you turn 65 and you enroll in Medicare Part B. You can buy any Medigap policy offered in North Dakota. Insurance companies must accept your application and can't charge you higher premiums because of your health.
You can buy Medicare Supplement Insurance outside of your Open Enrollment Period, but you will have to meet the insurer's medical underwriting requirements. You could be rejected or pay more because of health issues.
You may have a guaranteed issue right in certain situations. For example, your employer group health coverage ends, or you're leaving a Medicare Advantage plan for the first time during the 12-month trial.1
Guaranteed issue rights offer you the same protections as if you were in your Open Enrollment Period. An insurer can't refuse your application, must cover your preexisting conditions and can't charge you more.2
You may also qualify for a Special Enrollment Period, which gives you guaranteed issue rights for a short period. It may be available if you move, your coverage changes or you lose your plan through no fault of your own.
When to Buy
The best time to buy a Medicare Supplement plan at the lowest price is during your Medigap Open Enrollment Period.
What Are the Most Popular Medicare Supplement Plans in North Dakota?
Plans F, G and N are the most popular Medigap policies. In 2019, 55,000 North Dakotans bought Medigap plans (2019 is the year with the most recent data).3
Plan F is the most popular because it provides the most benefits. It covers:4
Medicare Part A coinsurance and hospital costs
Medicare Part B coinsurance or copayment
The first three pints of blood
Medicare Part A hospice care coinsurance or copayment
Skilled nursing facility care coinsurance
Medicare Part A deductible
Medicare Part B deductible
Medicare Part B excess charges
Foreign travel emergency costs, up to 80%
Plan F is one of only two plans covering excess charges from doctors who don't accept Medicare assignment. They are allowed to charge up to 15% more than the Medicare-approved amount for those services.
Plan F isn't available to people new to Medicare as of January 2020. But if you had another Medigap policy before January 2020, you may be able to switch to Plan F if you have a guaranteed issue right or meet the insurer's underwriting requirements.
Plan G covers everything covered by Plan F except the Part B deductible (the reason Plan F and Plan C were discontinued). It offers slightly lower premiums than Plan F.
Plan N covers everything covered by Plan G except for the Part B excess charges. You may owe a copayment of up to $20 for some office visits and up to $50 for emergency room visits that don't result in inpatient admissions.
Standard Coverage
Each letter plan offers the same coverage across companies, but insurers may charge different amounts for the same plan.
How Do You Choose a Medicare Supplement Plan?
First, choose from among Plans A through N based on the benefits you want. Not all insurers offer all plans in North Dakota, so use the Medicare Plan Finder to see what's available in your area.
Contact two or three insurers to compare their prices for the plan you chose. If pricing is similar, you may also want to ask friends and family how well each company handles its customers. It's not easy to change Medicare Supplement providers, so you'll likely be dealing with the company for many years.
Insurers use different methods to calculate how your premium will increase over time. With "attained age," it increases as you age. With "issue age," the premium is based on your age when you buy and won't increase (aside from inflation and other factors). With "community," or "no age," premiums, everyone pays the same regardless of age.5
Snippet Render Is Present – D3 cannot be loaded in editor mode. Go to preview or publish mode.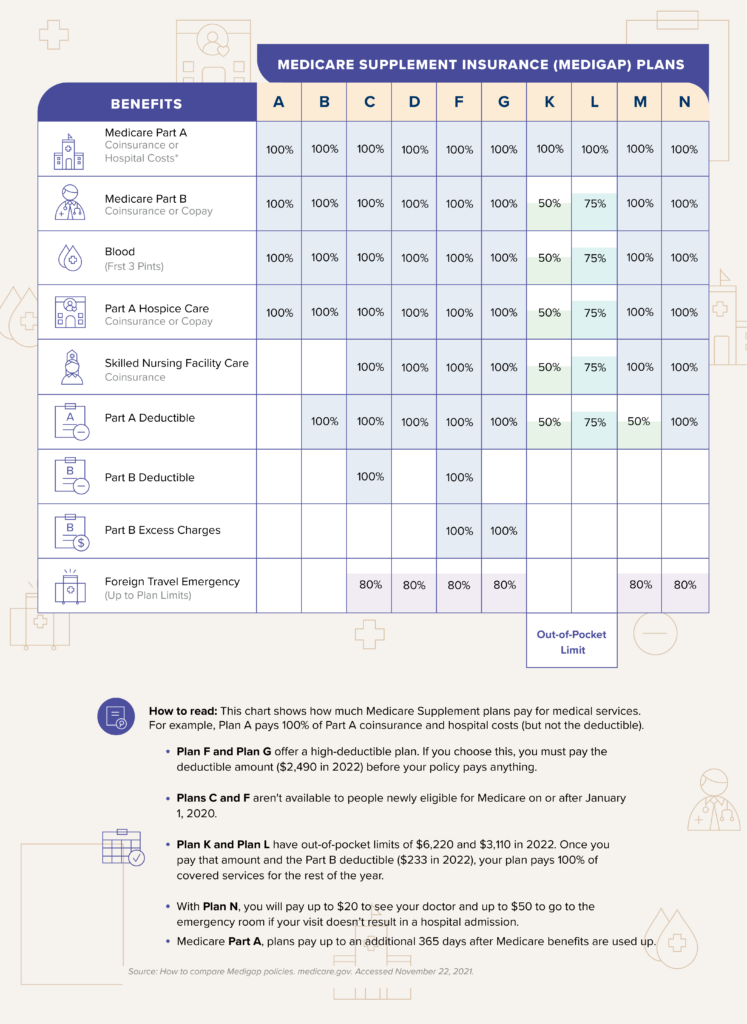 How Much Do Medigap Policies Cost in North Dakota?
The price of Medicare Supplement policies in North Dakota is affected by discounts offered for your age, gender and whether you use tobacco.
65-Year-Old Woman, No Tobacco
65-Year-Old Man, No Tobacco
Who Sells Medigap in North Dakota?
Insurance companies selling in North Dakota may not sell every Medigap policy. Many may sell different plans based on your location. Some carriers that offer Medicare Supplement plans in Missouri include:
What If You Want to Change Your Medigap Policy in North Dakota?
You may want to change your Medicare Supplement plan because:6
You're paying for benefits you don't need.
You need more benefits.
You want to change insurance companies.
You want a less expensive policy.
Unless you qualify for a Special Enrollment Period or another reason for guaranteed issue, you may face medical underwriting and possibly higher premiums.
To switch, find a new insurer or policy and apply. If your application is accepted, you can cancel your current policy. You have a 30-day "free look period" with a new policy. You may want to be sure you're keeping the new policy before you cancel the old one, even if it means paying double premiums for a month.
What Are Alternatives to Medicare Supplement in North Dakota?
Medicare Advantage (MA) plans in North Dakota are a replacement for Original Medicare. Private insurers usually bundle Medicare Part D prescription drug coverage with Medicare Part A and B benefits, along with other benefits such as vision, dental and hearing. MA plans generally restrict you to provider networks for coverage.
What Are Medicare Resources in North Dakota?
There are several resources for you to learn more about Medicare coverage:
The North Dakota State Health Insurance Counseling (SHIC) program is available — confidentially and at no cost — through trained volunteers, if you have any Medicare-related questions or problems. Call (888) 575-6611.
The North Dakota Insurance Department will help you select a Medicare Supplement plan or handle any complaints. Call (800) 247-0560 for help.
North Dakota Medicaid helps with medical coverage if you have low income or disability. To find out if you qualify, contact the North Dakota Department of Human Services at (800) 472-2622.7
The Comprehensive Health Association of North Dakota (CHAND) offers health coverage to North Dakotans who have lost their employer insurance or who can't get coverage because of health conditions.8
Next Steps
If you're about to enroll in Original Medicare and you'd like a Medicare Supplement plan, review your options and contact several insurance companies to compare prices for the plan you want.