What You Need to Know

Medicare Supplement plans cover the out-of-pocket costs of Original Medicare.

You must join Medicare Part A and B to sign up for a Medigap policy.

Medicare Supplement plans don't include a Medicare Part D prescription drug plan.
You might be surprised to learn the federal Medicare program (Medicare Part A and B) doesn't cover all of your medical costs. Getting an Arkansas Medicare Supplement insurance plan can help cover some out-of-pocket costs.
Medicare Supplement plans, known as Medigap policies, are supplemental insurance from a private insurance company. They help cover the costs that Original Medicare doesn't, like deductibles or copays.
When Can You Enroll in Medigap?
Medicare Supplement plans in Arkansas are different from Original Medicare. You'll need to enroll in Part A and B first. You can get a Medigap policy during your Medigap Open Enrollment Period. Insurance companies can't charge you more if you have health issues during this time.1
Medigap Open Enrollment Period (OEP): This is a six-month period starting after you turn 65 and enroll in Medicare Part B. You can't put it off or restart it, so it's a good idea to know your options before turning 65.
Outside Open Enrollment Period: You can apply for a Medicare Supplement plan in Arkansas if you miss your Medigap Open Enrollment Period. Be aware that insurance companies will ask about your medical history (called medical underwriting). They could deny you coverage if you have health issues.

Guaranteed Issue: Certain situations may make you eligible for guaranteed issue rights. This is when you can't be denied coverage because of health reasons and insurance companies can charge you more because of your health. For example, you have a Medicare Advantage plan and are moving out of the plan's area.2 You can switch to Original Medicare and buy a Medigap policy. The private insurance company can't reject you or charge more because of health conditions.

Special Enrollment Period: The easiest way to qualify for a Medigap policy outside of your open enrollment is to have a guaranteed issue right. If you don't, you might be charged more based on your health or even denied coverage completely.
When to Enroll
The best time to sign up is during your Medigap Open Enrollment Period.
What Are the Most Popular Medicare Supplement Plans?
Popular plans include Medigap Plan F, Medigap Plan G and Medigap Plan N.
Plan F: This plan isn't available if you're newly eligible for Medicare on or after January 1, 2020. If you are eligible for Plan F, it helps pay for your Medicare Part A hospital and coinsurance costs up to one year after you use your Medicare benefits. It also covers your deductible for both Medicare Part A and B and can cover the coinsurance for care from a hospice or skilled nursing facility.
Plan G: Plan G covers almost all of the same costs as Plan F, except the Medicare Part B deductible. Since many newly eligible Medicare enrollees can't sign up for Plan F, Plan G is a good alternative.
Plan N: This plan covers Medicare Part A coinsurance, deductibles and hospice care. It also covers Part B coinsurance, except for certain copayments. It won't cover your Medicare Part B deductible or Part B excess charges over what Medicare agrees to pay a doctor.
Most Popular Plan
Different letter plans offer different levels of coverage, but Plans F, G and N are the most popular.
How Do You Choose a Medicare Supplement Plan?
If a Medicare Supplement plan in Arkansas is right for you, pick the right plan by comparing the coverage and costs to your needs. Be sure to think about your future plans, such as international travel or potential skilled nursing care, when comparing Medigap policies.
How Much Do Medigap Policies Cost?
Even though plans are standardized, insurance companies can charge very different prices for the same plan. Plans are rated in three ways:4
Community-rated: Everyone pays the same monthly premium, regardless of age.
Issue-age-rated: Your premium is based on your age when you sign up and doesn't change.
Attained-age-rated: Your premium goes up each year.
Someone in Little Rock, for example, could pay as little as $42 a month to over $1,000 a month in premiums for a Medigap policy.5 This is in addition to your Medicare Part B premium.
65-Year-Old Woman, No Tobacco Use
65-Year-Old Man, No Tobacco Use
What Companies Sell Medigap in Arkansas?
What If You Want to Change Your Medigap Policy?
You can apply for a new Medicare Supplement plan in Arkansas at any time. Just know that insurance companies can charge you more or deny coverage if you're outside your Open Enrollment Period or don't have a guaranteed issue right.
What Are Alternatives to Medicare Supplement?
Medicare Advantage (MA): Also called Medicare Part C, these plans replace your Original Medicare coverage with a private insurance plan. An MA plan still has to cover the same things as Medicare Part A and B, and usually includes a Part D plan as well as vision and dental. You'll generally need to use in-network providers.
What Are Medicare Resources in Arkansas?
Arkansas Senior Health Insurance Information Program (AR SHIIP): This free counseling service helps Medicare beneficiaries enroll in Original Medicare and find Medicare Supplement plans in Arkansas.
Arkansas Insurance Department: The state-run insurance department works to protect Arkansas residents from harmful insurance practices.
Medicaid: Medicaid provides affordable or no-cost insurance options for eligible low-income Arkansas seniors or those with disabilities.
Snippet Render Is Present – D3 cannot be loaded in editor mode. Go to preview or publish mode.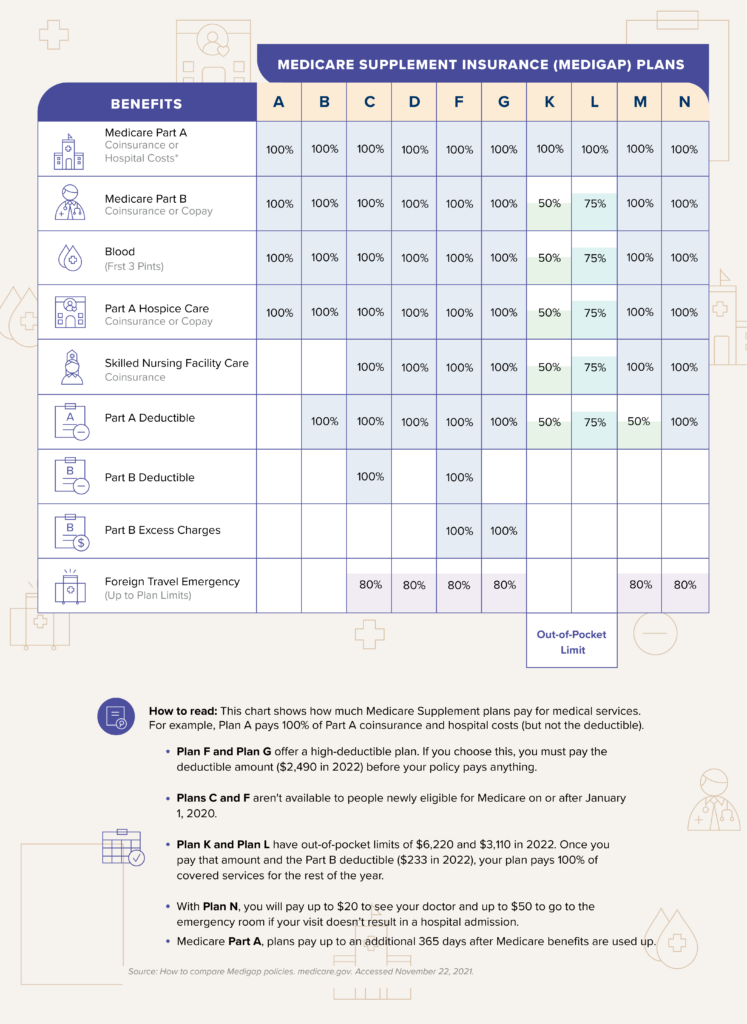 Next Steps
Research popular Medicare Supplement plans in Arkansas and compare costs from insurance companies so you're ready to sign up when you're eligible.