AARP (American Association of Retired Persons) is a household name that almost everyone knows. That is one reason why its Medicare Supplement Insurance, also called Medigap insurance, is the biggest seller nationwide in the Medigap market.
Medicare supplements are sold by private insurance companies to fill the gaps in original Medicare coverage, including hospital insurance (Part A) and medical insurance (Part B).
What Medigap policies offer are set by law, with different levels of coverage identified by letter such as A, B and G. Medigap providers compete on price and service instead of benefits.
AARP isn't an insurance company. The organization simply licenses its name to the nation's largest insurer, UnitedHealth Group, which overall insures more than 43 million people in all 50 states and most U.S. territories. Credit rating agency AM Best gives UnitedHealth Group an A- or "excellent" financial strength rating.1
That kind of trustworthiness is another reason that in 2018, the latest year for which data is available, AARP sold its Medigap products to almost 35% of the people who chose to buy Medigap insurance.2
What is Medicare Supplement Insurance?
Original Medicare (Parts A and B) covers many medical charges, but it leaves some expenses for participants to pay. Medicare pays about 80% of Part B expenses and an allocation of Part A costs, based on how long you spend in the hospital. 3 This leaves a retiree responsible for the remainder. Medicare supplement plans help cover the shortfall.
Some Medicare Supplement plans pay more expenses than others. The benefits each offer are identified by letters – A, B, D, F, high-deductible F, G, high-deductible G, K, L, M and N. Only applicants first eligible for Medicare before January 1, 2020, may purchase Plans C, F and high-deductible F.
Here's a brief chart that shows what each plan offers.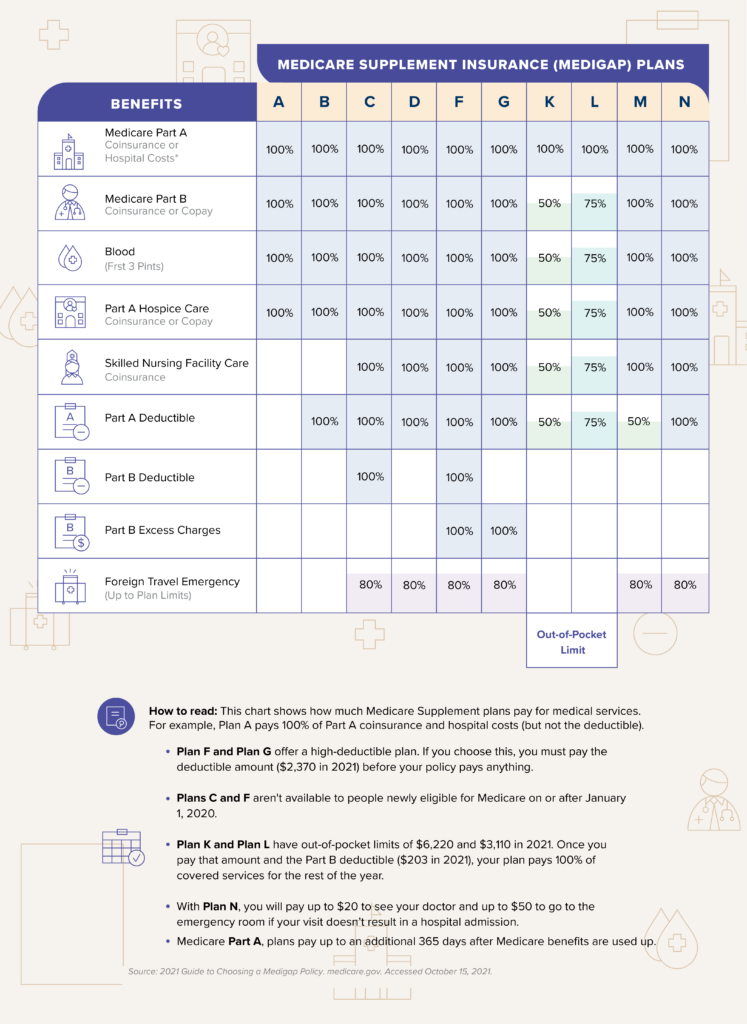 Does AARP/United Healthcare Insurance Offer Medigap Policies?
AARP/UnitedHealthcare Insurance sells all eight Medicare supplement plans, plus high deductible F and G). Not all plans are available in all states, territories or counties. You can plug your Zip Code into this AARP website and determine which plans are available to you and how much each will cost.4
What Are the Most Popular Medicare Supplement Plans?
The most popular supplement plans are F, G and N. As you can see in the accompanying chart, these are the plans that appear to provide the richest benefits. Here are some things to consider when evaluating them.
What Should You Know About Popular Plan F?
Plan F is no longer available to anyone who wasn't previously enrolled in Part B prior to January 1, 2020. But if you already have it, you can keep it.
Plan F has long been the most popular plan. While it is more expensive than the others, it also covers the most if you get sick. It can be very convenient because you can go to the doctor without worrying that you'll have to pay copayments or other bills.
The price of Plan F varies. For a 65-year-old woman who doesn't smoke, the price ranges from $305 to $514 in New York City and $117 to $461 in Dallas.5
More than Price
While price is always a big consideration when purchasing insurance, being a customer of companies that are reliable is worth a lot.
What Should You Know About Practical Plan G?
Plan G offers everything that Plan F offers, except the Part B deductible, which in 2022 is $233.6 That is about $17 a month, a useful figure to know when you calculate which plan will give you the most value for your money.
The Plan G monthly premiums range from $476 in New York City to $99 in Dallas for a 65-year-old woman who doesn't smoke.7
What Should You Know About Economical Plan N?
Plan N could be the right choice for you if you don't go to the doctor very often. It doesn't cover these three costs:
Part B deductible.
Part B copays for office visits and emergency room visits.
Plan N charges a $20 co-pay for each office visit and a $50 co-pay for any emergency room visit when you go to the emergency room , but aren't subsequently admitted to the hospital.
Part B excess charges are trickier to estimate. Most healthcare providers accept Medicare and its preset payment rates for their services. This is known as assignment. But some don't. In that case, Medicare allows them to charge an excess charge of 15% more than 95% of the full assignment amount.
For example, if your specialist doesn't accept assignment and the approved Medicare amount for his services is $2,000, the doctor will charge you an extra $285. Plans F and G would pay this charge, but if you have N, you have to pay it yourself.
The cost for Plan N ranges from $282 per month in New York City to $78 per month in Dallas.8
Does AARP/UnitedHealthcare Offer Medicare Advantage Plans?
If Original Medicare with a Medicare supplement insurance plan sounds expensive to you, AARP and UnitedHealthcare also sell Medicare Advantage plans or Medicare Part C. Medicare Advantage plans are all-in-one, covering Parts A, B and, usually Part D, prescription drugs. They may also offer some goodies, including assistance paying dental, vision and hearing care, all for the same rate.
UnitedHealthcare sells both health maintenance organization (HMO) plans and preferred provider (PPO) plans. In both cases, you can probably find a plan that won't charge anything beyond what you would pay for the Part B charge that is usually subtracted from your monthly Social Security payment.9
Why Should You Choose AARP/United Healthcare?
AARP has partnered with United Healthcare since 1997 and has extended its agreement through at least 2025. AARP understands what it takes to keep older customers happy. According to a marketing survey done for it in 2019 by insurance marketing expert Gongos, 95% of AARP's Medicare Supplement Insurance customers were satisfied with their plans. Among the people who had contacted AARP/UnitedHealthcare for customer assistance, 96% were satisfied with the professionalism of the person who assisted them.10
While price is always a big consideration when purchasing insurance, being a customer of companies that are reliable is worth a lot. Plus, in many states, AARP/UnitedHealthcare Medicare Supplement plans offer access to additional discounts and services at no extra cost, including a hearing program, 24/7 nurse line and Renew Active by UnitedHealthcare, which offers access to an extensive network of participating gyms and fitness locations.
The views and opinions expressed are those of the authors and do not necessarily reflect the official policy or position of MedicareGuide.com or HealthCare, Inc.