You've come to the right place to get a detailed review of Aetna Medicare Supplement plans, so you can choose the right coverage for your needs.
Why Choose Aetna Medicare Supplement Plans?
Original Medicare Part A hospital and Part B medical insurance covers a wide range of services. But you can face high out-of-pocket costs after you use these benefits. Aetna Medicare Supplement policies pay part or all of your Part A and B out-of-pocket expenses, which can save you a lot of money.
Aetna Medicare Supplement Review: How Plans Help You Save
All plans pay for an additional 365 days of hospital stay after your Medicare benefits run out.6
Most plans pay 100% of your Part A and B coinsurance or copayment.
Most plans also cover your skilled nursing facility copayment at 100%.
The Part A deductible ($1,408 in 2020) is covered at 100% by most plans.7
Some plans pay 80% of the costs for qualifying emergency care while in a foreign country.
You need to already have Medicare Part A and B, and live in the plan's service area to enroll. Coverage is usually available to people 65 and older, but some states offer coverage if you're under 65 and have a disability or end-stage renal disease. You must continue to pay your Part B premium when you enroll in Medigap.8
What Features Do Aetna Medicare Supplement Plans Offer?
These are some of the most common features available with all Aetna Medicare Supplement policies:9
Right to return your policy within 30 days of receipt with full refund of payments if you're not satisfied.
12-month rate guarantee. Your premium stays the same during your first year of coverage.
Household discount if you apply for a policy at the same time as another. Medicare-eligible adult who lives with you. Both of you must be issued a policy to get the discount.
Nationwide coverage at any provider that accepts Medicare.
Guaranteed renewable as long as you pay your premiums on time.
No changes or cancellation to your policy if you move to another U.S. address, as long as you pay your premiums on time.10
What Kind of Medigap Policies Does Aetna Offer?
Aetna offers Medicare Supplement Plans A, B, F, high-deductible F, G, and N in most states.11 Plan G has a high-deductible option as of January 1, 2020, which you may be able to get in your area. Plans C and D are also available, but only in certain states. For example, you can get Medicare Supplement Plan C in New Jersey.12 These are among some of the most popular plans.
Aetna Medigap Review of the Most Comprehensive Plans
Aetna Medicare Supplement Plan F is the most comprehensive because it covers all your Part A and B out-of-pocket expenses. This also makes it the most expensive. However, high-deductible Plan F has lower monthly premiums compared to most Medigap policies.
Aetna Medicare Supplement Plan C covers everything that Plan F does, except for Part B excess charges.
Both Plans C and F are only available to beneficiaries who were first eligible for Medicare prior to January 1, 2020.
The chart below shows more details.13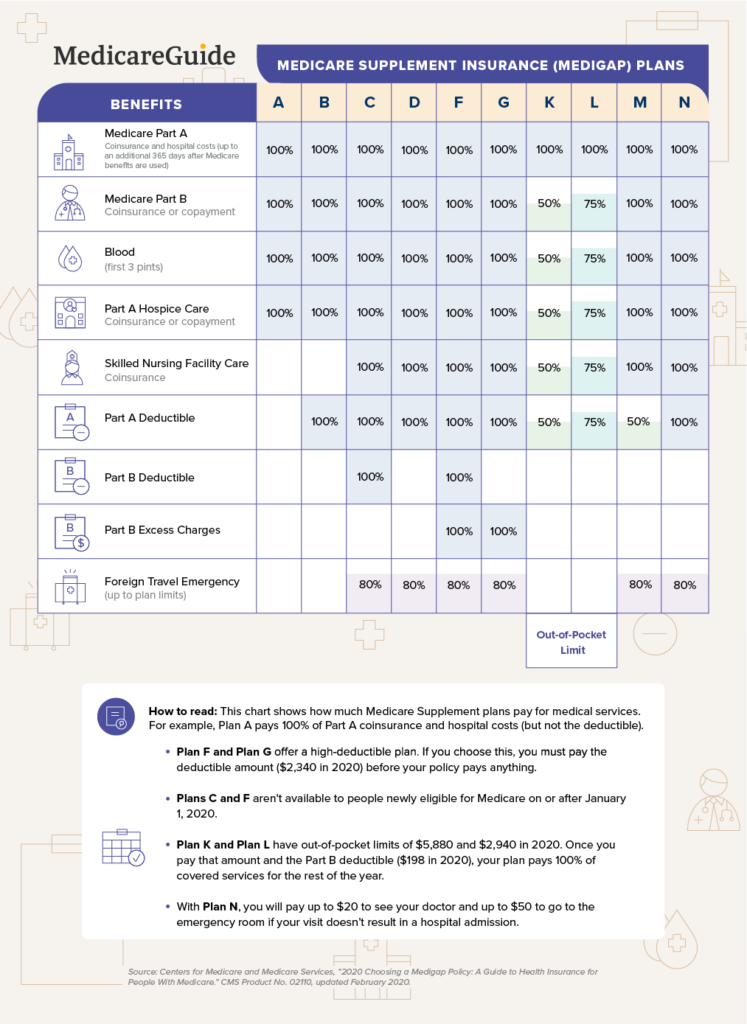 How Much Do the Most Popular Medicare Supplement Plans Cost with Aetna?
Aetna Medicare Supplement costs vary based on your age, health status, and location. You can't be charged more because of your health if you enroll during your Medigap Open Enrollment Period, which starts the month you are both 65 and enrolled in Part B. You'll get preferred rates if you enroll during this time.14
Below are examples of preferred monthly rates for popular Aetna Medigap policies available in most states. Premium rates are based on a 65-year-old female in Dallas, TX.15
Aetna Medicare Supplement Plan F: $133 per month premium.
Aetna Medicare Supplement High-Deductible Plan F: $42 per month.
Aetna Medicare Supplement Plan G: $106 per month.
Aetna Medicare Supplement Plan N: $86 per month.
Can I Get an Aetna Medicare Advantage Plan Instead of Medigap?
You can get an Aetna Medicare Advantage plan (also called Part C) or a Medicare Supplement plan, but not both at the same time.16
Medicare Advantage may be right for you if you're looking for lower monthly premiums, and you don't mind using provider networks.
You must have Part A and B to enroll just as you do with Medigap, but the two work differently. Unlike Medigap, which only supplements Original Medicare, Medicare Advantage is a comprehensive health insurance plan that provides your Part A hospital and Part B medical benefits. This makes it an alternative to Original Medicare.17
What Kind of Medicare Advantage Plans Does Aetna Offer?
Aetna offers several types of Medicare Advantage plans to meet your needs and budget. Most policies combine medical and drug coverage, which are known as Medicare Advantage Prescription Drug Plans (MA-PDs).18 For 2020, plans are available in 45 states, including the District of Columbia.19
Aetna's MA-PD plans have an average overall rating of 4.3 out of 5 stars from the Centers for Medicare & Medicaid Services. This means you get coverage that has high performance for things like helping members stay healthy.20
Depending on where you live, you can find these types of Aetna Medicare Advantage plans:21
Preferred Provider Organization (PPO): Lets you visit providers in- and out-of-network, but you typically pay more for out-of-network services.
Health Maintenance Organization (HMO): Usually requires choosing a primary care provider (PCP), and getting a referral to see a specialist.
Health Maintenance Organization – Point of Service (HMO-POS): Offers the flexibility to go out-of-network, but usually at a higher price. Some plans require a PCP and referrals.
Features Of Aetna Medicare Advantage Plans
Monthly premiums as low as $0 (varies by plan).
Maximum limit on the amount you spend out-of-pocket for medical expenses each year.
ER and urgent care coverage worldwide.
Fitness benefits at participating gyms through the SilverSneakers program.
Most plans come with prescription drug (mail order included), dental, vision, and hearing coverage.
Most plans also provide access to certain over-the-counter items at no charge.
Transportation benefits, such as trips to doctor appointments, included in some plans.
Meal delivery to your home after a hospital stay available with some plans.22
Does Aetna Offer a Special Needs Plan?
If you qualify for both Medicare and Medicaid, Aetna offers another option called a Medicare Dual Special Need Plan (D-SNP). This is a type of Medicare Advantage plan.
Aetna Dual Special Needs Plans are available in these 14 states: Alabama, Florida, Georgia, Iowa, Kansas, Louisiana, Missouri, Nebraska, North Carolina, Ohio, Pennsylvania, Texas, Virginia, and West Virginia.23
Features of Aetna Dual Special Needs Plans
Personal care team — your care manager, together with your primary doctor, coordinates your healthcare.
Over-the-counter and prescription drug coverage.
Dental, vision, and hearing coverage.
Wellness programs such as fitness benefits through SilverSneakers and acupuncture therapy (program availability varies by location).
Meals and transportation after a hospital stay.24
Next Steps
This Aetna Medicare Supplement review isn't meant to cover all the details about plan features and benefits. Whichever Aetna Medicare plan you choose, make sure to read your policy carefully to understand what's covered.
The views and opinions expressed are those of the authors and do not necessarily reflect the official policy or position of MedicareGuide.com or HealthCare, Inc.