What You Need to Know

Original Medicare covers many of your healthcare expenses, but it doesn't pay for everything. You're still responsible for some costs.

Medigap policies help with those coverage gaps. You must enroll in Medicare Parts A and B to qualify for Medigap. It's easiest to enroll during your Medigap Open Enrollment Period.

In Michigan, you can choose from 10 Medigap policies. Two are available with high-deductible options.
When you have Original Medicare, which is Medicare Part A and Part B combined, it covers many of your healthcare expenses. But with Original Medicare, you'll still face some expenses, including copayments and deductibles.1 If you frequently need healthcare, those costs can quickly add up.
With a Medigap policy, you'll have additional coverage to help cover some of those remaining expenses. Your Original Medicare will cover its portion of your healthcare costs, and then your Medigap policy will contribute toward your remaining fees. This can reduce or eliminate what you pay out of pocket.
When Can You Enroll in Medigap?
Like traditional health insurance, Medigap has an Open Enrollment Period, and it's easiest to buy a Medigap policy during this time. The six-month Open Enrollment Period starts automatically the month you turn 65 and are enrolled in Medicare Part B.2 During this time, you can buy any Medigap policy from an insurance company, regardless of whether you have preexisting health conditions, like diabetes.
Buying a Medigap policy becomes more complicated after your Open Enrollment Period has ended. While you can still buy one, insurance companies can deny you coverage if you have a preexisting condition. Alternatively, a company can exclude covering that condition, or implement a six-month waiting period before your coverage begins.
There are a few ways you can change your policy without those restrictions. If you have guaranteed issue rights, then insurance providers are required to let you buy a Medigap policy outside of the Open Enrollment Period.3 Only certain situations qualify you for this, such as if you move outside of your Medicare Advantage Plan's service area.
Alternatively, you might qualify for a Special Enrollment Period. To be eligible, you'll need to experience a qualifying event like losing your current insurance.4 The coverage changes you can make during a Special Enrollment Period will depend on your qualifying event.
Did You Know?
Other than your Open Enrollment Period, there are only a few circumstances in which you can buy a Medigap policy without restrictions.
What Are the Most Popular Medicare Supplement Plans?
In Michigan, you can choose from 10 Medicare Supplement plans. High-deductible options for Plan F and Plan G are also available.5 Plans F, G, and N are the most popular choices, but it's important to review each plan's coverage to choose the one that's right for you. Note: Plan F is not available if you are eligible for Medicare after January 1, 2020.
Plan F
Plan F is the most comprehensive plan available. It includes:
Plan G
Plan G offers similar coverage as Plan F, excluding the Part B deductible:
Plan N
Plan N offers similar coverage as Plan F, excluding the Part B deductible and Part B excess charges:
How to Choose a Medicare Supplement Plan
Each Medicare Supplement plan offers slightly different coverage. Consider the types of healthcare expenses that you face most often each year and look for a policy that covers those costs. Premiums vary between policies, so this will also be a factor when deciding which is right for you. A third-party comparison tool like MedicareGuide.com can help you to easily see the differences in coverage each plan offers.
How Much Do Medigap Policies Cost?
Medigap policy coverage and cost varies, but these prices can give you an idea.6 The following prices reflect quotes for a 65-year-old female and male nonsmoker in Michigan.
65-Year-Old Woman, No Tobacco Use
65-Year-Old Man, No Tobacco Use
What Companies Sell Medigap in Michigan?
Did You Know?
Medigap policies can vary widely. Consider that if you choose a high-deductible plan, your monthly premiums will be lower but when you use services, you'll pay more out-of-pocket.
What If You Want to Change Your Medigap Policy?
As mentioned, you'll have limited opportunities to change your Medigap policy outside of your Open Enrollment Period, guaranteed issue rights, or a Special Enrollment Period. This means it's even more important to carefully research each policy to choose the one that's right for your needs.
What Are Alternatives to Medicare Supplement?
If a Medigap policy isn't right for you, a Medicare Advantage Plan might be a good fit. Medicare Advantage Plans provide additional coverage to help reduce the costs that you're responsible for with Medicare Part A and Part B.7 Some Medicare Advantage Plans also cover prescription expenses.
What Are Medicare Resources in Michigan?
Snippet Render Is Present – D3 cannot be loaded in editor mode. Go to preview or publish mode.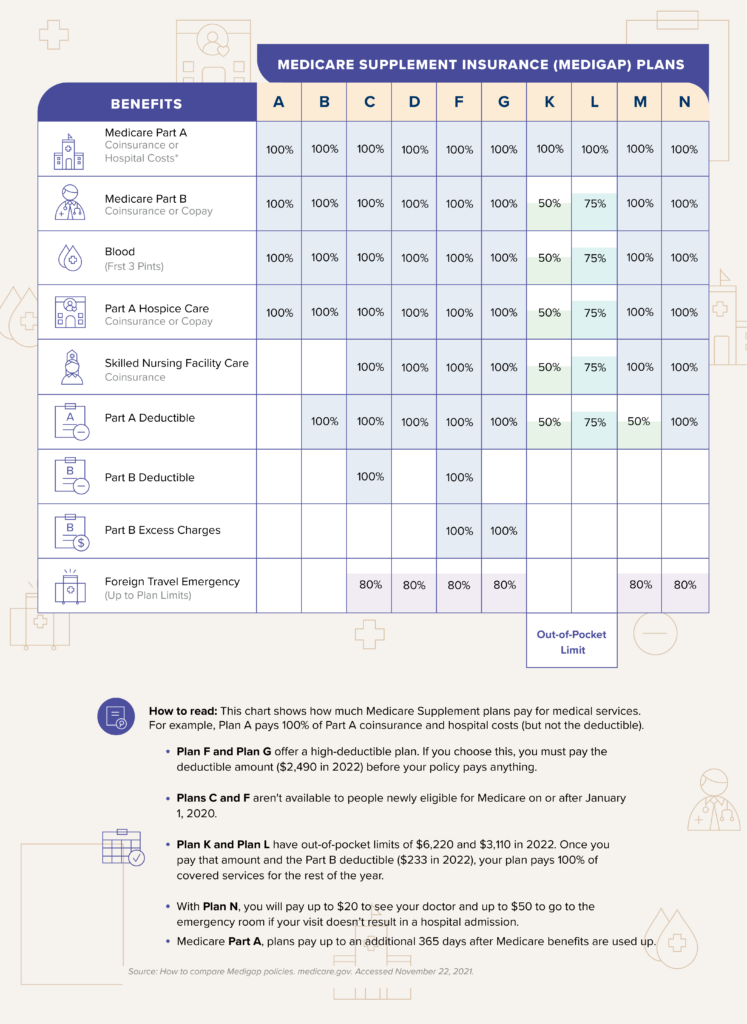 Next Steps
Medicare helps to pay for a lot of your healthcare costs, but you'll still need to pay for some out of pocket. A Medigap policy can provide extra coverage to help reduce such expenses.