A new Medicare smartphone app could make your life a little easier on the way to the doctor's office. This government-sponsored app is called "What's Covered", and can be downloaded for both Android and Apple devices.
What's Covered is designed to do exactly what the name implies. It tells you if the procedure or item you need is covered under Original Medicare (either Medicare Part A or Medicare Part B).
The government Medicare website has at least 9 different sections with at least 5 or more subheadings under each. This official Medicare tool was designed from the start to clear up any possible confusion.
Downloading the "What's Covered" Medicare App
First, you'll want to load either Google Play (for Android) or the App Store (for Apple).

Make sure you search for "What's Covered," or just type in the word "Medicare." Be careful not to search for "Medicaid," as different apps will come up in the list. The app should look similar to this when you find it in the store: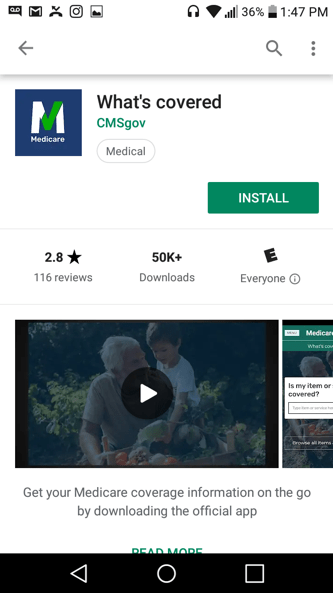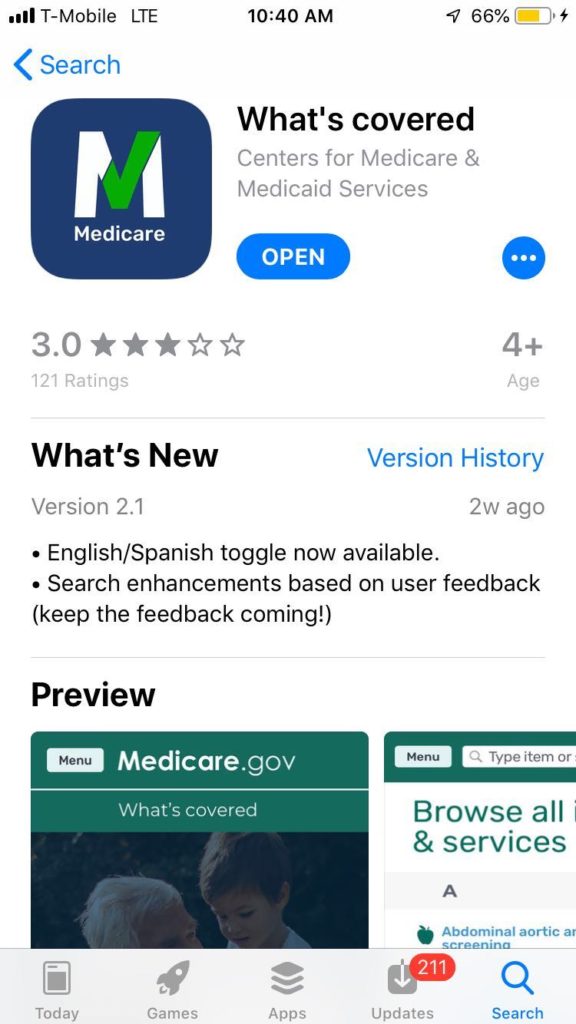 To confirm you're downloading the real app, double-check that the app developer is CMSgov (Android) or Centers for Medicare & Medicaid Services (Apple). You can see that printed right under the name of the app, directly about the "install" button.
If you need help installing apps on your phone, you can read official instructions for Android devices here and for Apple products.
The Heart of the App: What You See Is What's Covered!
If the purpose of What's Covered is simple, the app is equally easy to use. You can search either via keywords that you type in, or by browsing through a list of procedures.
When you open the app, the first thing you will see is a search box. It's intuitive and easy to find because the app actually just opens straight to the page you need.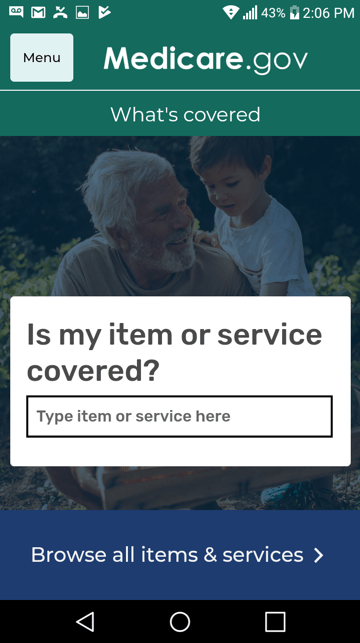 Unlike the wide-open internet, there are only two options here. If you're new to smartphones or apps, there's no reason to be intimidated. The design is extremely intuitive.
Even if you accidentally "browse" instead of "search," the search box stays at the top of the screen like this: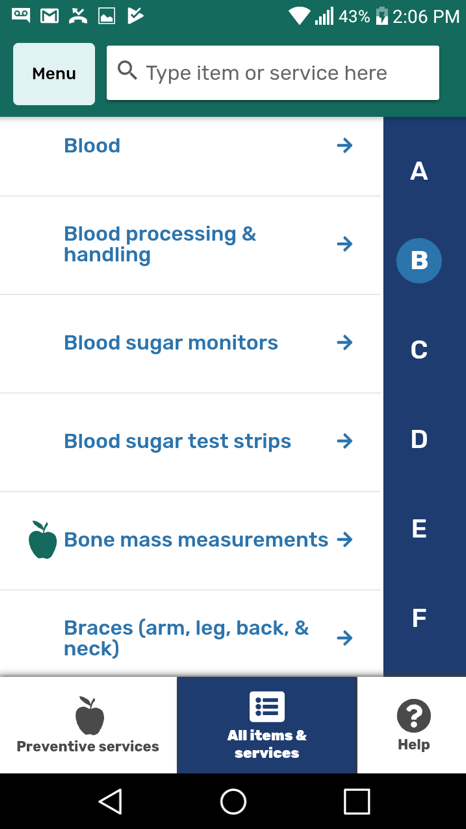 If you have ever used Google, then you know how to use the Medicare app. It's as simple as typing in a keyword.
You don't even need to click anything else after you type in a keyword. The app automatically brings up a list.
The Covered or Not Covered Results Screen
After you search or browse for the procedure you need, all you have to do is tap on the item name and you'll see one of two screens.
If the item is covered, it will tell you which part of Medicare it's covered under: either Part A or Part B.
If it isn't covered, you will see a red X.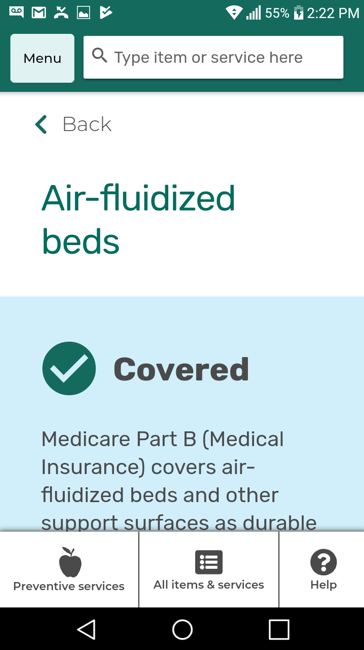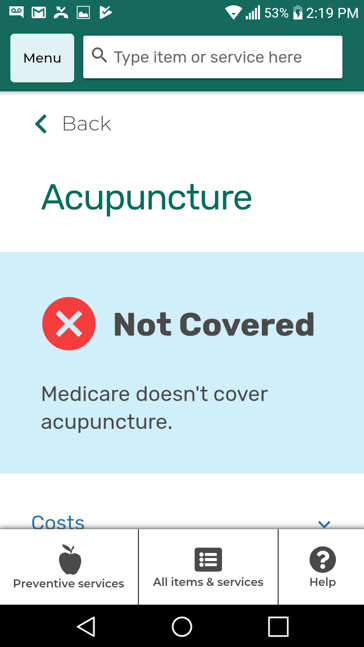 Three Simple Sections on the Medicare What's Covered App
In keeping with the simplicity of the design, there are only three options at the bottom of the screen.
Help
Clicking on "Help" will give you a phone number to call Medicare, which you may need to do if you have questions about your deductible or other Medicare costs.
Preventive Care
Also listed at the bottom of the app is a helpful link to preventative services, like the Annual Wellness Visit. These are marked with an apple icon. As the updated saying goes: an icon a day keeps the doctor away.
Smart Search Results (New)
Thankfully, you no longer have to type in the precise name of a procedure in order to get the right search result. This addresses a major concern about the app from when it first launched.
An example of this search function would be typing in the keyword "heart". The results include all the procedures, as well as preventative measures that have to with cardiovascular health.
This is helpful if you aren't sure of the exact name of a procedure but only know the general reasons behind it.
Be aware that you do have to spell your keywords correctly, however. The app has not optimized the search box for common misspellings. So, typing in "alergy" will give zero results, whereas "allergy" gives you a list of options.
Standard Medicare Services Only
Initial user reviews of the app were critical of its impersonal coverage information. If you have supplemental Medicare Advantage, Medicare Part D or Medigap coverage (like most people with Medicare) then be aware that the app doesn't specify how these options add to your coverage.
A service that "What's Covered" lists as partially covered could still be taken care of by your supplemental plan. The app itself notes that you should always double-check with your doctor, especially if you cannot find a specific item or service.
Verdict: An Addition, Not a Substitute for Medicare Info
Since What's Covered only lists the most broadly-covered services, and does not account for other factors like your extra Medicare coverage, this app is not a replacement for talking to your doctor.
As a plus, the developers appear to be very attentive to user reviews and feedback and have already made updates to the interface. They may keep adding to the functionality. For now, it's already a very quick and easy way to see if your procedure is covered by Original Medicare. Even Medicare Advantage plans, which can set some of their own unique rules, must cover everything that Original Medicare does. That makes this app broadly useful.
The app was updated at the beginning of April 2019. and is now available in Spanish as well as English. If you already installed What's Covered when it first came out, then the app store where you first downloaded it will have an "update" button on its listing instead of a "download" button. Make sure you have the latest version installed for updated information.